Creative Drunk Gets DUI on Motorized Bar Stool
Creative Drunk
Gets DUI on
Motorized Bar Stool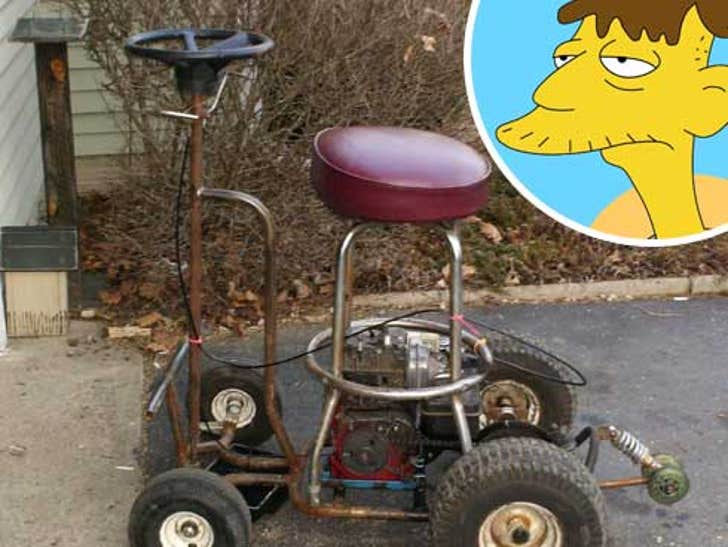 Warning: It's best to cue the song "Dueling Banjos" before reading the following story:
Some MacGyver-esque drunkard in Ohio is facing DUI charges after crashing a bar stool he was driving -- HE WAS DRIVING!
Cops arrived to the scene around 5:41 PM on March 4, arrested the guy, and filed a police report ... here are the highlights ... it's classic.
"Unit #1 was heading west bound on Kelly Lane. Unit #1 attempted to turn around (180 degrees), and back down Kelly east bound. As Unit #1 began its turn, it rolled over and the operator was injured."
"Note: Unit #1 was a home made [sic] motor vehicle, a bar stool attached to a frame with a lawn mower attached."
"At this point I noticed that Mr. Wygle's eye's [SIC] were very blood shot and were glassy in appearance."
"I asked him what happened, Mr. Wygle stated, 'I wrecked my bar stool.'"
"I asked Mr. Wygle how much alcohol he had to drink, he said, 'a lot.'"
"I asked if the bar stool even ran and said, 'yes, it will go around 38 miles per hour.'"
Wygle, who has undoubtedly become a cult hero in frat houses across the country, pleaded not guilty and has requested a jury trial.
No word on how he plans on getting to court.