Neverland Ranch -- The Raid Photos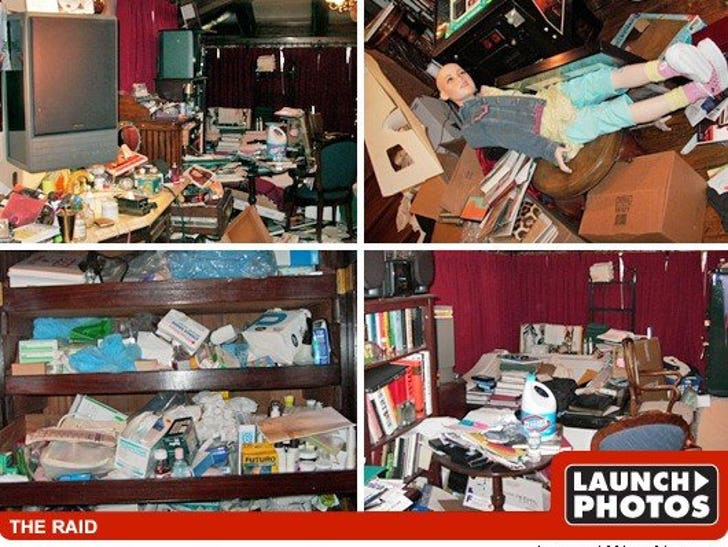 The Santa Barbara County Sheriff's deputies who raided Michael Jackson's home in 2003 at Neverland Ranch had their hands full -- the place was a mess.
All these photos were taken inside the house, as deputies faced the daunting task of sifting through all of MJ's stuff.
By the way, most of the evidence involving drugs was never admitted at trial, because authorities felt it was not relevant to the molestation charge. Most of this evidence hasn't surfaced until we combed through tens of thousands of documents and photos.
Raid at Jackson's Netted Heavy Drugs
Santa Barbara County Sheriff's deputies who raided Michael Jackson's Neverland Ranch back in 2003 found a syringe, powerful narcotics, vials and IV bags containing what could be anesthesia.
We've obtained the documents from the Sheriff's Department detailing what was found in the search. Among the items ...
-- A vial of Versed -- a powerful sedative
-- Several IV bags containing "a milky white fluid, located in a small cardboard box on top of the bathtub." Propofol and other anesthesias are milky white. As we first reported, Propofol was in Jackson's home the day he died.
-- A vial of Promethazine -- an antihistamine with strong sedative effects
-- A bottle of Alprazolam (generic for Xanax, a powerful anti-anxiety drug)
-- A bottle of Percocet -- a painkiller
-- A syringe
-- A vial with Demerol in it
-- Numerous loose pills outside bottles
-- A bottle of Prednisone -- a steroid
-- Ery-tab -- an antibiotic
-- Prescriptions for Xanax that had been filled
-- A prescription for Alprazolam
-- Oxygen tanks
-- IV stands
Jackson Self-Injecting Demerol, Doctor Says
A doctor who treated Michael Jackson claimed the singer self-injected Demerol into his system.
We've combed through tens of thousands of pages of the official file for the 2005 molestation trial. In the Santa Barbara County Sheriff's notes, a member of Jackson's security detail -- retired L.A. County Sheriff's deputy Michael Laperruque -- said some doctors were trying to get Jackson off of Demerol, and that one of the doctor's in Santa Barbara "was upset with JACKSON because he had been self-injecting."
Laperruque told detectives he had picked up Jackson's prescriptions for the singer, usually under the name Chris Carter. Carter was one of Jackson's bodyguards.
Laperruque also told detectives one time when he was at Neverland his job was to keep Jackson's family out because they were planning an intervention.
Injection Marks on Jackson's Neck
Michael Jackson had injection sites on his neck, according to law enforcement sources.
As we first reported, Jackson had "dozens" of injection sites and punctures all over his body the day he died. Law enforcement sources tell us some of these injection sites and punctures were old and some were fresh. They were found, we're told, on his upper arms, upper legs, ankles, inside around his knees and the neck.
Dr. Arnold Klein told Larry King, "
." Klein, who saw Jackson multiple times in the weeks before his death, did not explain why he didn't notice marks on the singer's neck and other places.
Jackson Used Employees' Names to Score Drugs
Michael Jackson went to a variety of doctors to get strong narcotics and used multiple aliases (including the names of several employees), this according to notes compiled during the Santa Barbara County Sheriff's investigation back in 2004.
Sheriff's detectives interviewed Chris Carter, who worked as Jackson's bodyguard prior to the Sheriff's raid of Jackson's home in 2003. According to Sheriff's Department notes obtained by TMZ, Carter said he would get Xanax prescriptions for Jackson under various fictitious names. Carter told detectives that Jackson would even use his name and the names of other employees to score prescriptions.
In addition to using his name, Carter said Jackson would use the names of Frank Tyson (a Jackson employee who was a prominent figure in the molestation trial, having had numerous contacts with the accuser's family), Jesus Salas (Ranch manager) and Joe Marcus (another Jackson employee) to get prescriptions.
Various pill bottles were found at Jackson's Neverland Ranch. One bottle of Alprazolam (generic for Xanax) was prescribed for Frank Tyson by Dr. Arnold Klein. A bottle of Prednisone found at the Ranch was also prescribed by Dr. Klein in the name of Peter Midani.
A bottle of Percocet, a narcotic painkiller, was found with the name Michael Armstrong, prescribed by Dr. Gerald Labiner.
A bottle of ERY-TAB, an antibiotic, was found with the name "M,M." The prescribing doctor was Dr. Carey Logan from Las Vegas.
A prescription receipt from a pharmacy was found for Alprazolam (generic Xanax) and written for Frank Tyson by Dr. William VanValin. Another receipt from Dr. VanValin was for written for Xanax in the name of Manuel Rivera.
Jackson Docs Not Cooperating, Coroner Claims
Law enforcement sources tell TMZ two doctors who treated Michael Jackson have not been forthcoming with their medical records.
Sources say Dr. Arnold Klein and Dr. Conrad Murray have not turned over the medical records the L.A. County Coroner's office has requested. We're told both doctors have turned over some records, but the coroner's office has not gotten the complete file from either doctor.
And there's this ... We've learned a driver for Michael Jackson told coroner's officials shortly after Jackson's death that the singer was going to Dr. Klein's office multiple times a week in the months preceding his death and sometimes would spend 3 to 4 hours inside.
The driver told coroner's officials Jackson appeared disoriented when he left Klein's office. This is consistent with what a bodyguard told Santa Barbara County Sheriff's deputies in 2004 ... when Jackson left the offices of Klein and other doctors.
Jackson Addicted to Xanax, Bodyguard Says
In the documents obtained by TMZ, a former bodyguard of Michael Jackson's says he was a bagman for Jackson and the mission was Xanax.
Chris Carter told Santa Barbara County Sheriff's Deputies he would pick up prescriptions for Xanax for Jackson at various pharmacies, and that Jackson was taking 10 plus Xanax pills a night.
Carter told detectives he expressed concerns to another Jackson employee, who said the singer was actually doing better -- because he had been taking 30 - 40 Xanax pills a night.
Jackson Doc Offers 'Potent Narcotic' Solution
One of Michael Jackson's doctors wanted Michael Jackson to trade his dependence on Demerol for another "potent narcotic."
Dr. Alex Farshchian wrote Michael Jackson a letter -- dated July 21, 2002 -- in which he writes, "Buprinex (sic) is the potent narcotic I told you about last week. It is just like the D but better." Buprenex is an injectable narcotic painkiller.
During a search of Neverland, Santa Barbara County Sheriff's deputies seized a scribbled note -- which may have been written by Jackson and found around his drug stash -- that says "Buprenex does the same as demerol, the only difference is you can't become an addict on Buprenex." The note refers to Buprenex as "synthetic demeroll (sic)." It goes on: "2 viles, I would feel safe having it in case of axident (sic)."
Our research shows if Buprenex is taken for long periods of time or at high doses, it can become addictive.
The doctor refers in his letter to a "5-7 day program that offers you the solution." The doctor does not explain the program.
Jackson Seemed High After Leaving Docs
Michael Jackson used to leave the offices of various doctors looking "out of it," according to a former bodyguard who was interviewed by detectives during the 2004 child molestation investigation.
Chris Carter, a former Jackson bodyguard, was interviewed by detectives from the Santa Barbara County Sheriff's Department. Carter told detectives he would drive Jackson to doctors' offices in New York, Florida and California. The Sheriff's documents, obtained by TMZ, say "[Carter] named Dr. [Arnold] Klein, Dr. [Allan] Metzger, Dr. Barney from Solvang, Dr. Saunders and Dr. Farshchian."
The notes continue, "Carter described JACKSON as being sharp and 'in tune' prior to the doctor visits and afterward he would be out of it and sedated."
The notes also say "Dr. Farshchian told him that JACKSON was addicted to Demerol, but said he was giving JACKSON a placebo to wean him off."
Carter talks of an incident where Jackson was intoxicated in a hotel room and fell on his face. Carter said he confronted Jackson and spoke with him about his drug problem for an hour. Carter said Jackson denied having a problem. According to the notes, "Carter said he told Jackson he was not comfortable in getting prescriptions for him." Carter says he then quit being Jackson's bodyguard as a result.
Jackson Doctor Visits -- High Exits?
As we first reported, Michael Jackson's driver told coroner employees MJ appeared disoriented as he left Dr. Arnie Klein's office in the weeks leading up to his death. We compiled video of Michael's exits from April-June -- outside Klein's office. Check it out and decide for yourself.