Dane/Gayheart Naked Co-Star -- 'Just Having Fun'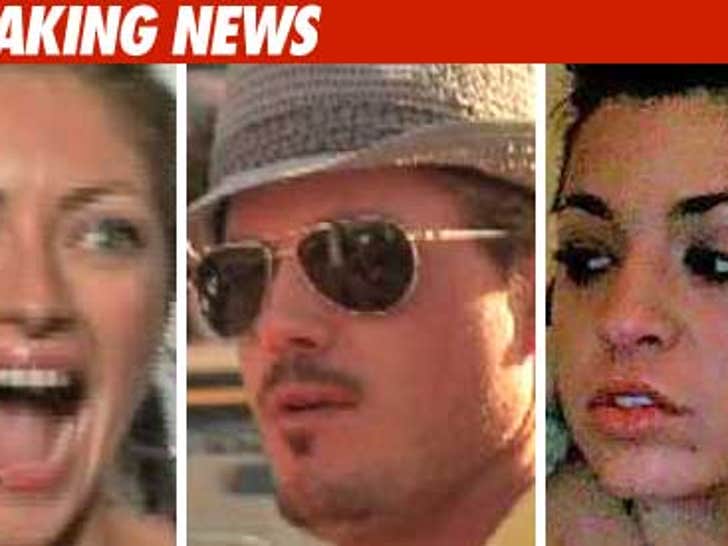 The other girl in the bizarro 3-person naked romp vid with Eric Dane and Rebecca Gayheart wants everyone to know she was "just having fun with my friends."
Last night at a gas station in West Hollywood, a clothed Kari Ann Peniche told us she's unsure if she'll be taking legal action against her former roommate/singer Mindy McCready -- who Peniche claims stole the tape from their apartment after a dispute over money.
The tape shows the gang naked and/or playing dress up in Peniche's apartment -- and the two women soaking together in a bathtub as Eric calls "action" behind the camera. They all appear seriously inebriated -- and at one point Gayheart says she needs to lay down because she's so high.
We're told by Kari Ann that there is no sex in the video.
Madonna Punishes the Ocean with her Shoulders
Wearing her self-titled team uniform/bathing suit, Madonna continued celebrating her 51st birthday by taking her jack-diesel shoulders for a dip off a boat in Italy yesterday.
Madge's Brazilian boytoy Jesus Luz watched to make sure her buff, veiny arms stayed afloat.
Just because they aren't French doesn't mean these stars can't toast!
More Britney, Different Bikini
Britney Spears continued to show off the revamped bikini body in L.A. yesterday -- throwing on a 2-piece turquoise bathing suit at the Ritz Carlton in Marina del Rey.
...which begs the question: Is it possible for a weave to get sun damaged? Seriously, we have no idea.
TMZ's Poolside Paradise Contest -- FINALISTS!
The wet and wild water shots poured into the TMZ newsroom for our Poolside Paradise contest -- click through the soggy stills to get in on the hydrated hilarity.
2009 World Beard Champion -- The Wicker Man?!
A proud new champion emerged at last night's World Beard and Moustache Championships -- the greatest event on the planet (about facial hair) -- and on the cold stage in Anchorage, Alaska, he proved the basket look totally works on your face.
The new King of Beards -- chosen out of nearly 300 people -- was a guy named David Traver, who pulled in the top prize for his unbe-weave-able wicker beard of awesomeness.
Mr. Traver, we salute you. Don't ever shave.
Mystery Man Meat -- The Total Package!
These stars were daring enough to strip down to their budgie smugglers and bare it all for the love of sunburns!
It's simply unthinkable. After hundreds of man hours of scrutiny, the research is in ... and Megan Fox may have a Megan flaw -- her thumbs!
There's a buzz her two thumbs are disproportionate -- compared to her hands. Some people are saying she has a clubbed thumbnail ... others say the thumb is too short. Look at the pics and judge for yourself.
Wax Me Up Before You Go-Go!
Some of the realest things about Hollywood heartthrobs are these fake figurines of wax unveiled at Madame Tussauds Hollywood Museum! The likeness is spooky -- but the wax seems to be more vibrant than the real deal.
With all the flu scares out there, its important for the stars to inspect each others throats ... with their tongues!