Big Ben's Lawyers: Emails Shall Set Him Free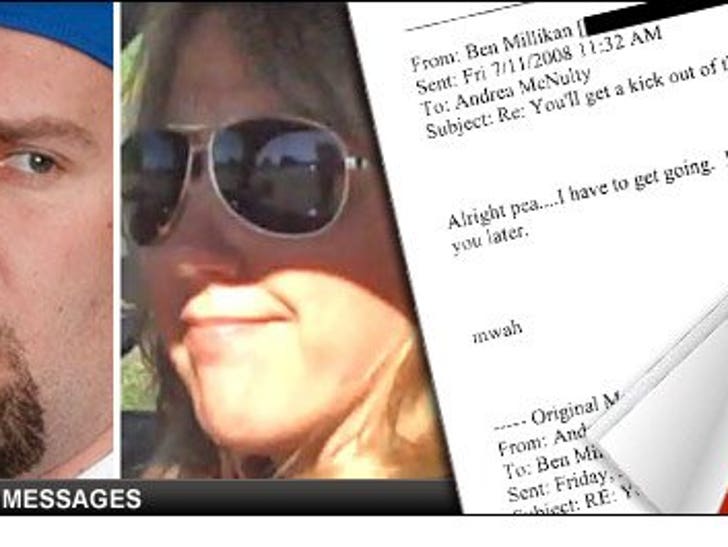 Ben Roethlisberger's lawyers claim they have emails and IMs proving Andrea McNulty's sexual assault allegations are a load of bull -- including one IM she sent after the alleged incident saying, "I would date Ben Roethlisberger."
Ben's attorney David Cornwell just released a document containing emails and IMs, which he says were sent between Andrea and her fake online boyfriend "Ben the Soldier."
In the docs, Cornwell says Andrea sent one "light-hearted" email to fake Ben around 12:41 AM on July 12, 2008 -- which would have occurred a mere 1.5 - 2 hours after she claims the real Ben assaulted her.
Cornwell says the email "proves that, rather than crying in her truck in the parking lot, and driving away, distraught and crying [which she claims in her lawsuit] McNulty was back at her workstation sending light-hearted emails and engaging in benign chatter with her online boyfriend.
Then, on the afternoon of July 12 -- one day after the alleged incident -- Cornwell claims McNulty wrote, "This golf tournament has been really fun ... speaking of which I need to head over to a dinner with your lookalike [referring to Ben Roethlisberger] and a few others before heading out..."
Ben's lawyers claim she sent another IM to fake Ben in December of '08, saying "I would date Ben Roethlisberger."
Cornwell attached a press release with the emails that included some advice for Andrea -- "McNulty should abandon her lawsuit immediately and admit that Ben Roethlisberger did not rape her."