'Entertainment Something' & Jon/Kate Cake Caper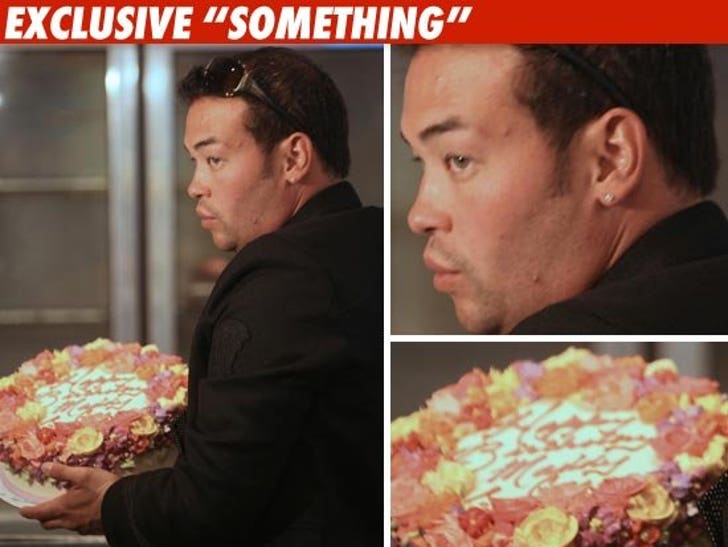 UPDATE: Jon Gosselin has a double-D problem on his hands -- as in his daughter's name is misspelled on the cake. It's Mady -- not Maddy.
A person from a mysterious entertainment show ordered the cake Jon Gosselin is schlepping to the big birthday.
An intrepid TMZ reporter called the Cupcake Cafe in NYC. The owner told us she got several calls from "a person from "Entertainment Something," ordering the cake and asking permission to shoot inside the bakery when Jon came a callin'.
When Jon arrived at the shop he had his eye on the cupcakes -- thus the name, Cupcake Cafe. Jon was surprised to learn the person from "Entertainment Something" had already ordered a cake. The owner thinks Jon paid cash, but that begs the question -- did "Entertainment Something" ultimately foot the $94.00 bill?
We checked TV Guide but no "Entertainment Something" is listed. So we took a shot in the dark and contacted "Entertainment Tonight." The rep said her show absolutely did not pay for Jon's cake.
But when Jon got the cake, an entertainment show was inside the shop shooting the "action." We do not know if the crew from "Entertainment Something" was inside the store, but "Entertainment Tonight" was.
Stay tuned.

UPDATE: The award for the best comment of the day goes to whoever posted this: "I love Entertainment Something!!! I watch Wheel of Nothing right after!"