Jon Cryer's Ex-Wife Allegedly Requested Hit
Jon Cryer's Ex-Wife
Allegedly Requested Hit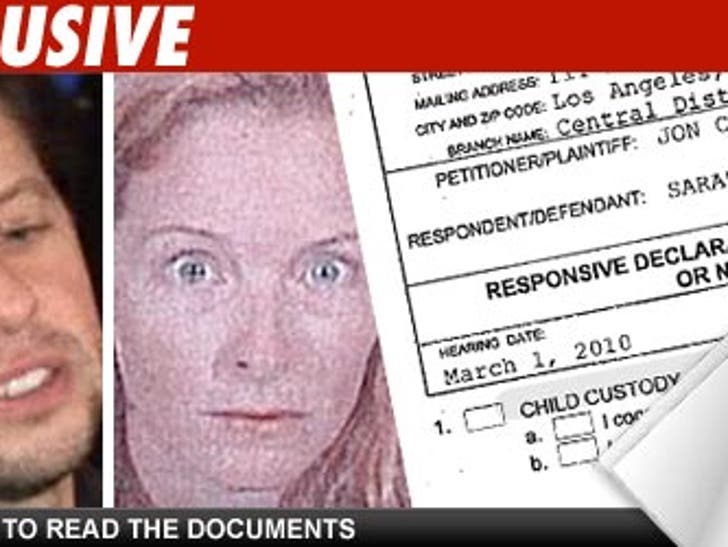 Jon Cryer, co-star of "Two and a Half Men," was the target of a hit engineered by his ex-wife ... this according to the woman's ex-boyfriend.
According to documents filed in the custody battle between Cryer and ex-wife Sarah Trigger, Trigger's lawyer claims on December 21, 2009, Trigger told her that her ex-boyfriend, Eddie Sanchez, had said he was going to kill Cryer and Trigger's estranged husband, David Dickey.
Trigger's lawyer became so alarmed she contacted lawyers for both Cryer and Dickey. On January 10, Dickey confronted Sanchez. According to legal docs, "Mr. Sanchez not only flatly denied making such a statement, but he said that it was [Sarah Trigger] who had contacted him on numerous occasions, stating that she wanted to see the pair [Cryer and Dickey] dead, and even asking Mr. Sanchez if he would kill the pair, or if he would not, inquiring whether she could speak with Mr. Sanchez's father about this issue."
According to Cryer's declaration, he notified Warner Bros. security on January 15. Cryer also states his co-star requested that "we do not film in front of a live audience." The documents do not ID the co-star but presumably it's Charlie Sheen.
The FBI then launched an investigation but had no comment today when we called.
Trigger's family law attorney, Vicki Greene, tells TMZ, "Sarah has not threatened anyone, especially Jon and those are statements that are refuted and she has evidence to show that Mr. Sanchez has already recanted those statements to her."