Lawrence Taylor -- Judge Sets Monster Bail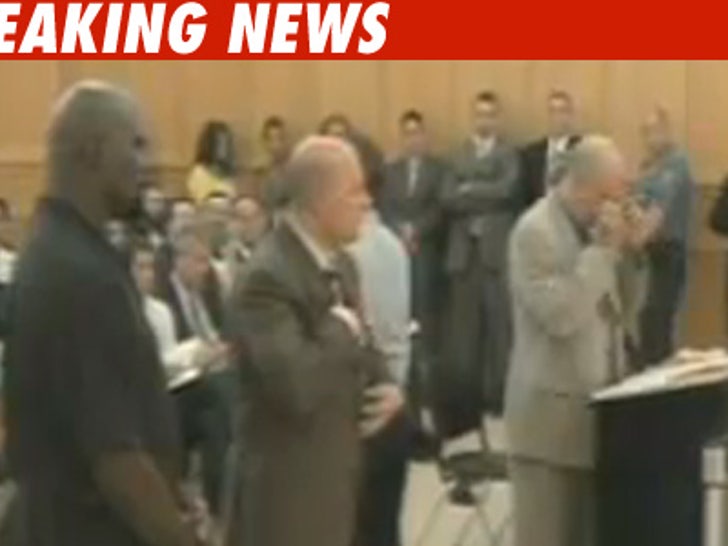 With steel handcuffs clamped down on his wrists, NFL legend Lawrence Taylor just left a New York courtroom -- where a judge set his bail at a whopping $75,000.
Taylor was formally arraigned on charges of 3rd degree rape (sex with a minor) and patronizing a prostitute in the 3rd degree. He's plead not guilty to the charges.
The prosecution first requested that the judge set bail at $100k, citing LT's lengthy criminal history. Taylor's attorney called the request "ludicrous." Ultimately, the judge settled on $75k.
Minutes before the arraignment, cops held a news conference, where they confirmed several facts:
-- LT was "very cooperative" with police.
-- Cops say LT had some alcohol inside hishotel room, but officials won't specify what kind or how much. LTdidn't appear to be intoxicated when cops arrived to his room.
-- Officers also claim LT did not attack his accuser, her black eye was caused before she arrived to his hotel room.
-- LT has been charged with rape in the 3rd degree -- which is essentially statutory rape.
The charge is a Class E felony -- and if convicted, LT could face up to 4 years in prison.
-- Copsalso state that LT has been charged with patronizing a prostitute inthe 3rd degree -- and if convicted, LT could face up to one year injail.

-- Cops confirm that LT is accused of paying $300 for sex.
-- Officials"do not know" if the victim resisted having sex with LT -- it'simportant to recognize that LT has not been charged with forcible rape.
-- Copssay LT did not answer the door when they arrived -- so they letthemselves in. Cops say they did not have a search warrant, becausethey didn't need one.