Charlie Sheen -- Same Time Next Year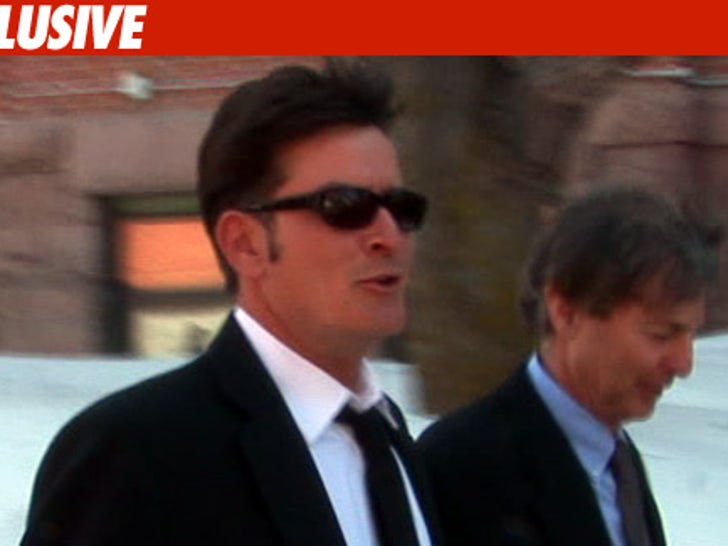 Charlie Sheen will begin doing work release Tuesday as part of his 30-day sentence ... and one of his tasks will be to coach actors for a play with the ominous title, "Same Time Next Year."
TMZ broke the story ... Charlie's plea deal will include work release at Theatre Aspen, where he'll be able to leave the jail everyday at 8 AM for work at the theater and return to jail by 8 PM. We're told Charlie will be coaching actors for 3 plays -- "The Wonderettes," "Three Little Pigs," and "Same Time Next Year."
Charlie will also be doing meet-and-greets for Theatre Aspen fundraising. He'll also be working with kids who are in a theater group at the ABC Center in Aspen.
As for how today will go down -- after the 4 PM court hearing where the judge accepts Charlie's plea, he'll meet with people from the Pitkin County Sheriff's Department as well as a probation officer. He'll probably end up at the jail at around 7 PM tonight.
As we first reported ... with good time, Charlie will serve 17 days, but two of those days (the first and last) will be short.
We've also learned Charlie has completed the required 36-hours of anger management classes. Nevertheless, after serving his sentence he'll still be placed on probation for a short period of time -- probably 30 days -- so the fines and other requirements are fully processed.
But first things first ... we're told Charlie will report to Theatre Aspen at 10 AM tomorrow.