Charlie Sheen/Brooke Mueller Divorce Documents
Charlie Sheen/Brooke Mueller
Divorce Documents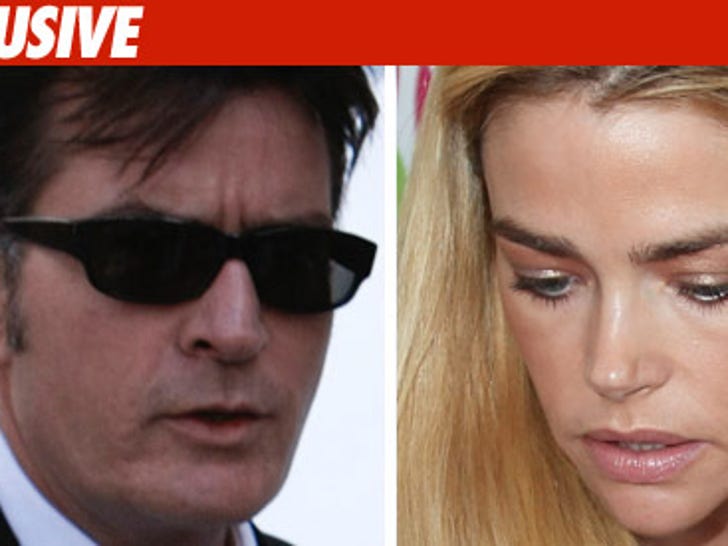 Charlie Sheen and Brooke Mueller signed a 43-page agreement -- obtained by TMZ -- that lays out who gets what in the event they divorce ... and Brooke has made it clear ... she's not going to get less than Denise Richards.
According to the docs, signed by both Charlie and Brooke, they will get joint legal custody of their two kids. Brooke gets primary physical custody and Charlie becomes a weekend dad, getting the kids on the first, third and fifth weekends of the month from Saturday at 10 AM until Monday at 10 AM.
Brooke gets $55,000 a month in child support, plus various other expenses, but, according to the docs, "under no circumstances shall the child support paid by Charlie for Bob and Max be less than the child support paid by Charlie to Denise Richards for Sam and Lola."
TMZ broke the story ... Denise gets $50,000 a month in child support ... although the new document suggests Denise may be getting $55k a month.
Brooke waives spousal support but still cashes in. In addition to getting a 50% cut on the baby photos the couple sold to Getty Images, Brooke gets several bank accounts and a lump sum parting gift of $757,689.70.
Charlie gets the house but has to buy Brooke out to the tune of around $1 million.
Charlie also gets to keep his $5.6 mil watch collection.
At the end of the document, Brooke agrees "not to disclose to any media sources personal information relating to Charlie's sexual affairs or alleged drug usage." For his part, Charlie agrees not to talk about Brooke's alleged drug use.
And they're not allowed to talk crap about each other in front of the kids.
TMZ also obtained divorce documents that were signed by Charlie but not filed with the court ... at least not yet. The documents cite "irreconcilable differences" as the reason for divorce.
We're told no decision has been made on whether to pull the trigger on the divorce.