Follow the Michael Jackson Money Trail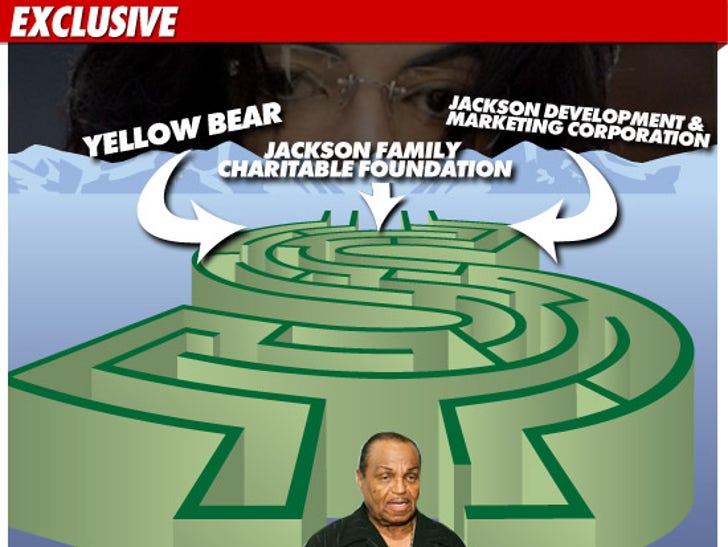 Michael Jackson's parents are giving fans an ultimatum -- don't even try to use MJ's name or likeness to make money. Problem is ... they don't have the right either.


We found a document posted on the Jackson Family Foundation website -- that's the organization that's throwing a bash at the Beverly Hilton in Bev Hills Saturday night at prices as high as $500 a ticket.
, signed by Joseph Jackson, Chairman, and Katherine Jackson, Vice Chairman, warns fans, "Please, do not ... Use the 'Jackson Family" name 'The Jackson Family Foundation' or 'Michael Jackson' as a means to advertise the sale of commercial products, fundraisers or services of any kind."
The reality -- Michael's parents -- just like the fans -- have no right to exploit MJ's name and likeness. That right belongs solely and exclusively to the estate of Michael Jackson.
What's more, we did some digging and Joe has created a company that may well be cashing in on Michael's name. It's called the
, incorporated in Nevada last December, after Michael died. Joe is listed as the director and Lowell Henry, a longtime financial advisor of Joe and Katherine, is the treasurer.
And get this ... Take a look at the picture of the guy in the red tie, next to Katherine in a promotional pic for Katherine's new book, "Never Can Say Goodbye." That guy is none other than Lowell Henry.
Interesting ... in the book, Katherine thanks Lowell, Joe and the estate. We're told no one told the MJ estate about the book until its release was announced.
As for the Beverly Hilton bash, Joe's PR person tells TMZ Joe will not be profiting from the Beverly Hilton event, and that the money is all going to charity. But VoicePlate.com, which is co-sponsoring the event, tells TMZ some but not all of the money will go to charity.