Oksana to Mel: Here's Why I Played the Tape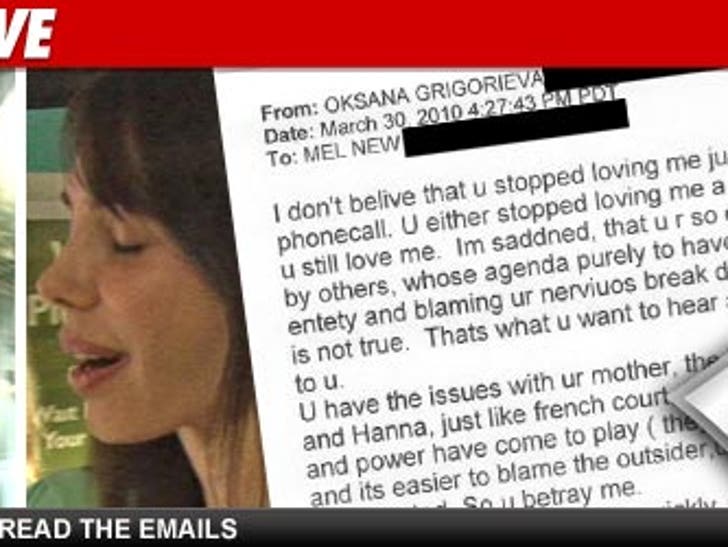 Oksana Grigorieva sent Mel Gibson a long email on March 30, 2010 about the tapes she secretly recorded -- and one of her lawyers tells TMZ the email proves Oksana did not try and extort the actor.
In the email Oksana tells Mel she played one of the secretly-recorded messages from February 18 to her lawyer.
Oksana says, "As far as the tapes go, I only played one to my lawyer, becouse on march 15 Michelle proposed on ur behalf not a very generous gift for our daughter and there was nothing for me."
Oksana adds, "My lowers also told me that Tom Hansen [one of Mel's lawyers] said I wouldn get a penny ..."
Although that sounds like Oksana is trying to use the tape to squeeze money out of Mel, one of her current lawyers, Daniel Horowitz, tells TMZ Oksana was extremely reluctant to play her lawyer the tape but felt threatened by Mel's legal team.
Horowitz cites this portion of the email, "My lowyers warned me that ur lawyers are cabaple of false fabrication about me in the press, i.e., an unfit mother, a prostitute etc so u can have the baby and I get to go to my 'f...ing moth hole' as u told me. I had no choice, after all of this I had to play one message to them."
And Oksana continues in her email to Mel, "The messages we r talking about I kept on my phone purely for u, to c how scared we were and for u to understand what this have done to us, how painful these words were, but hopeffuly, eventualy to help us. That was the only reason."
Daniel Horowitz tells TMZ, "Oksana was legally entitled to play all of the tapes for her lawyers and most clients would have done so. She was being supremely careful of Mel's privacy because she knew that even lawyers in Hollywood might lose track of the tapes and she didn't want to hurt him."
Horowitz continues, "This is the opposite of extortion. It's someone in love who wants things to get better."