Oksana Makes Domestic Violence Case Against Mel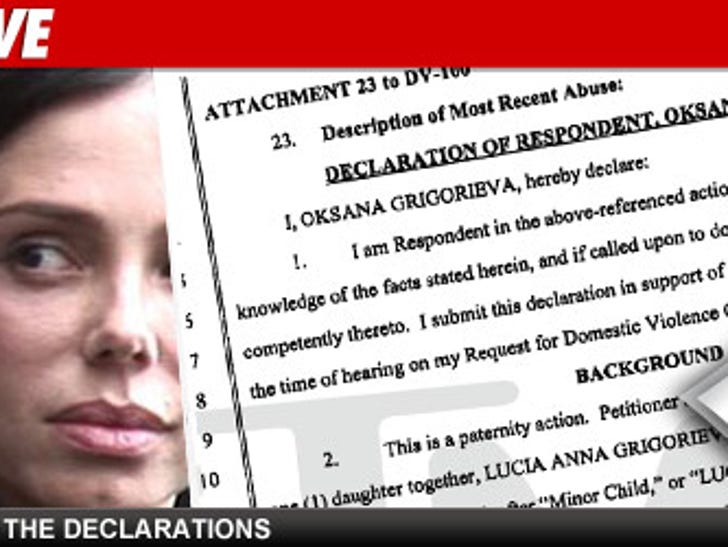 TMZ has obtained the declaration Oksana Grigorieva wrote that created a nuclear custody war between herself and Mel Gibson ... alleging "verbal and physical abuse, threats to kill and extraordinary anger problems."
According to the declaration, filed with the court on June 21 in support of a motion for a protective order, Oksana alleged several instances in which she claims Mel was physically abusive -- the biggest being January 6, 2010.
Oksana claims in a fit of jealousy, Mel called her a "whore," "C**t" and a "f**king C**t" as he stormed around his Malibu house. Oksana says she tried to leave the house, when Mel "raised his hand and took a closed fist punch to my mouth. He then punched me on the left side of my head, near the temple area. The force of [Mel's] punches threw me and LUCIA back on the bed. As LUCIA and I laid on the bed ... [Mel] with his two hands tried to strangle me, and proceeded to choke me with his right forearm to my neck."
Oksana claims Mel's "second fist blow that went across my face also glanced across LUCIA's chin, and there was blood on both of us."
Oksana then claims Mel threatened her with a gun, as we've previously reported.
But Oksana alleges other abusive behavior at other times -- claiming Mel would call her a "Gold digger," "Weak c**t," "F**king bitch," "Ingrate bitch" and "whore."

She claims in November, 2009, Mel was "literally frothing at the mouth and his saliva got all over my face," one time slamming a chair against a glass door and breaking it.
On another occasion, Oksana claims Mel "started chest butting me into a corner, all while I was still holding LUCIA." She also alleges Mel would push her.
Oksana says during a phone call on February 18, Mel said he would never cop to striking Oksana. She claims he said, "I will f**king deny it and I will say that your f**king son is a c**t liar too. So listen bitch you will f**king straighten up or I will f**king destroy you."
We've also included in the documents, declarations from Oksana's mother, as well as her facialist, Mady Shany, who claims 6 days after the January 6 blowout, Oksana came to her for a facial. Shany claims she observed "scratches and bruises around her eyes and on her forehead."