Nicole Richie Paparazzo: She's No Angelina Jolie
Nicole Richie Paparazzo:
She's No Angelina Jolie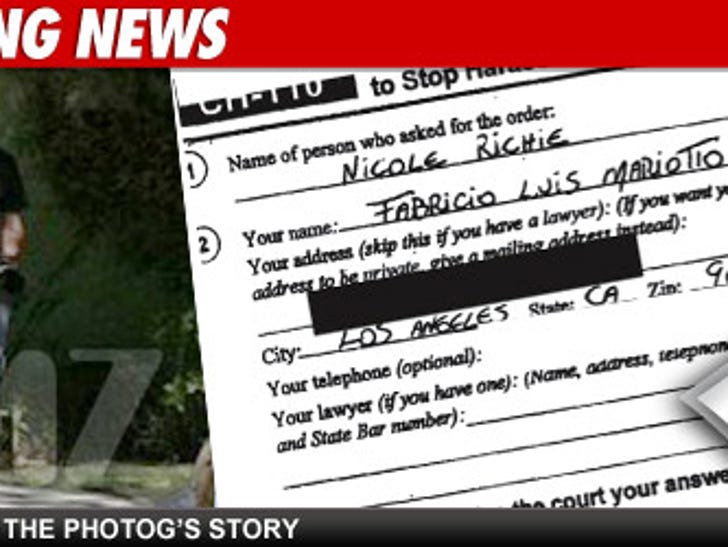 Nicole Richie's bid to get a permanent restraining order against a paparazzo has been continued, but the photog is now taking a stand, telling TMZ Nicole's not worth stalking because she's a C-plus celeb and "no Angelina Jolie."
Fabricio Luis Mariotto says in legal papers, "I think it's unfair to put all the responsibility of Ms. Richie's frustrations with the entire industry in only one professional, specially when this person has not taken photographs of Ms. Richie or her family for at least 8 months."
Mariotto got nasty, telling us, "Nobody wants to wait at her house. She's not Angelina Jolie."
Richie won a temporary restraining order against Mariotto, after she took the pic (above) of him at her daughter Harlow's preschool. Richie says Mariotto has been harassing and inciting her family.
In his papers, Mariotto says "I've never been at the school before, I did not know it was there. As soon as I realized that I was at the children's school and that Ms. Richie seemed upset, I left."
The temporary restraining order will remain in effect until the next hearing.
UPDATE: Outside of court, Richie's lawyer Mark Geragos called Mariotto a "problem" ... while Mariotto claimed the opposite.