Chris Brown -- Death Threat in Raz B Twitter Feud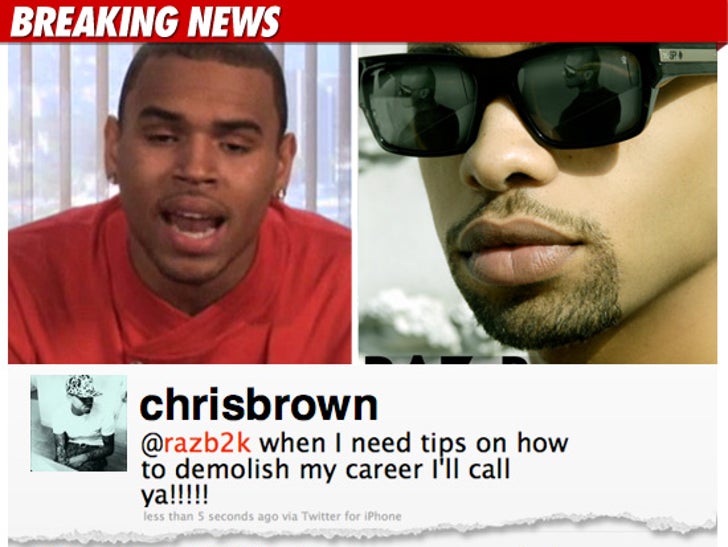 Chris Brown's Twitter feud with former B2K singer Raz B took a violent turn last night -- when Raz's brother posted a video threatening to put a "mother f**king pistol" in Brown's mouth.
The threat came after a scathing exchange between Brown and Raz yesterday afternoon -- which erupted when Raz made comments about Brown's attack on Rihanna.
But after Brown retaliated with several racial and gay slurs directed at Raz -- the B2K singer's brother stepped in ... posting a video message saying, "If I see you in L.A. my dude, I'm gonna put my mother fu**ing pistol in your mouth."
Raz's brother, Ricky Romance -- who's also a singer -- added, "Step your game up homeboy ... when I see you my n**ga, I will smack you in the mouth, beat you, drag you down the street and treat you like a little b**ch my n**ga. This ain't no mother f**king game homeboy. You ain't welcome in L.A. and if I catch you alone, watch what I'ma do to you."
Last night, Brown twittered a response, "Ill be in LA REAL SOON!!!!!!"
UPDATE: RazB's rep tells TMZ ... "Raz B wanted to make sure everyone knows that what his brother says does not represent him."
The rep adds, "Those are just a brother's tendencies to protect his brother coming out. Raz B has already spoken to his brother and told him to chill out."