Super Bowl VIPs -- The Most Expensive Menu in Texas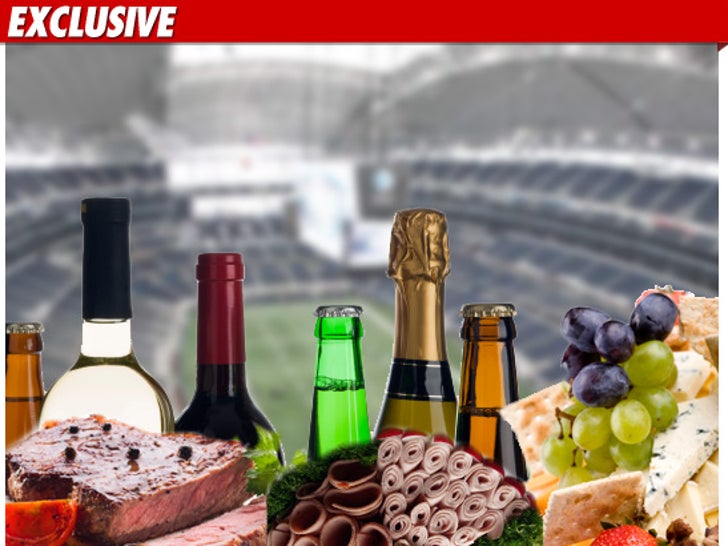 The Super Bowl ain't just about the game -- it's about the food -- and TMZ has learned the BALLERS who shelled out thousands for a luxury box in Arlington will be gorging on some GOURMET Texas grub!!!
According to Legends Hospitality Management -- the people in charge of feeding the fat cats at Cowboys Stadium when the Green Bay Packers battle the Pittsburgh Steelers -- the suites will be stocked with everything from a truffled Mac 'n Cheese bar to Moon Pies!
We're told the theme for the menu is "comfort food" -- and the meals will be served in 3 AWESOME shifts ... including:
-- French Onion Dip
-- House Made Spiced Kettle Chips
-- Jalapeño White Cheddar Popcorn and Texas Pecan Kettle Corn
-- A Winter Fruit Presentation
-- Tenderloin of Beef
-- Southern Chicken Salad
-- Fruits and Nuts
-- Miniature Kaiser Rolls

After Kick Off
-- Organic Citrus Salad
-- Organic Greens, Texas Ruby Red Grapefruit
-- Hearts of Palm w/ Black Pepper Croutons
-- Texas Slow Smoked Brisket
-- Dublin BBQ Sauce and Miniature Kaiser Rolls
-- Truffled Mac and Cheese Bar
-- Chopped tomatoes, Apple Smoked Bacon, Bourbon Ham
-- Pastry Desserts
-- Mini Moon Pies, Texas Blueberry Pies, Apple Empanadas, and Blueberry Caramels
-- Warm Texas Peach Cobbler w/ Mascarpone Whipped Cream
And of course -- the suite occupiers will also have full access to unlimited beer, wine, and soda.
WE WANNA KNOW WHAT YOU'RE GRUBBING ON AT YOUR SUPER BOWL PARTY -- POST YOUR RECIPES IN THE COMMENTS SECTION!!!!!