'Talent' Contestant Sues -- Hotel Hobos Killed My Wife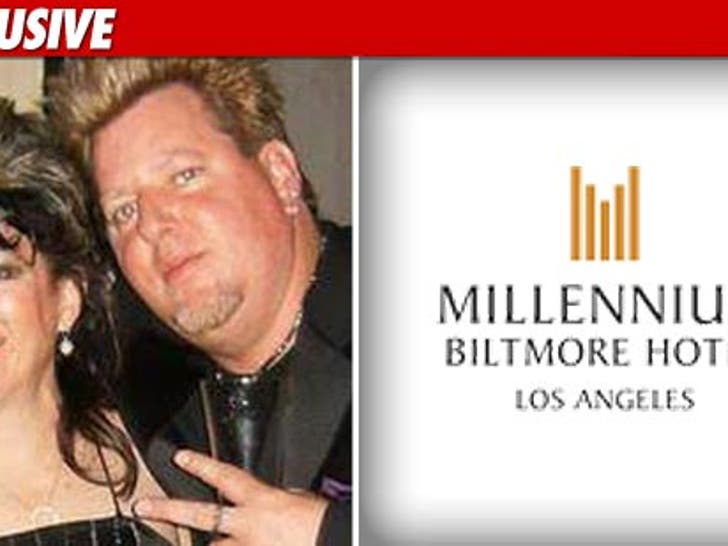 Former "America's Got Talent" contestant Joe Finley believes a homeless person snuck into a ritzy L.A. hotel and killed his wife last year ... and now Joe is suing the hotel for wrongful death.
According to his lawsuit, obtained by TMZ, Finley claims his wife's death could have been prevented if the hotel would have done a better job of keeping out transients.
As TMZ first reported, Joe was questioned by cops after his wife's body was discovered in the staircase of the hotel back in October.
Cops have not officially identified the killer -- and the investigation is still open -- but in his lawsuit, Joe seems pretty confident a transient was responsible for the death.
In the docs, Joe claims the Biltmore was aware that there had been several recent disturbances inside the hotel by "transients and other uninvited third parties" ... including assaults and theft ... but the hotel failed to take proper security measures to keep their guests safe.
Joe claims there were several items in the staircase that suggest homeless people were even living in the building the night his wife was killed ... the items included, "Filthy clothing ... bottles full of urine ... and dirty blankets."
Joe is suing for unspecified damages. So far, no comment from the Biltmore.
Joe's lawyer, Sean Macias, tells us, "The tragic death of Laura Finely was preventable and The Biltmore failed to provide basic security measures and precautions."
Macias adds, "There has been prior serious criminal incidents at the hotel. They were understaffed with security and they had construction on first and second floors where uninvited transients and third parties were staying."