Charlie Sheen -- Crowd Goes WILD In Cleveland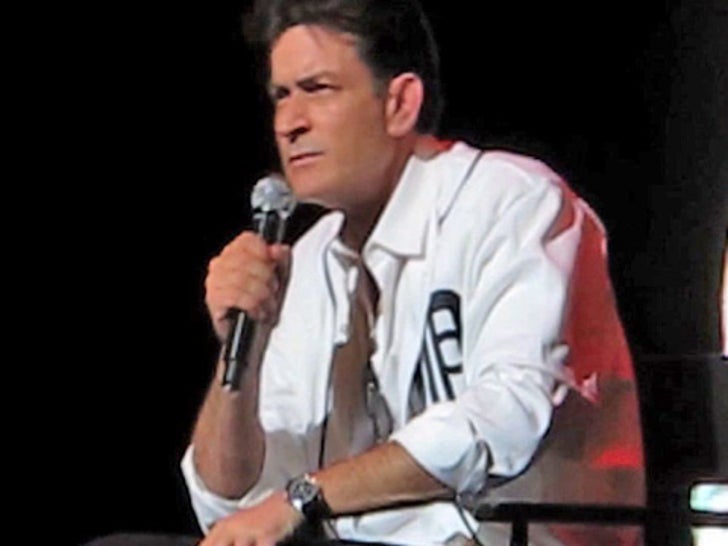 Charlie Sheen KILLED IT in Cleveland Tuesday night ... finishing a 2 hour performance with a STANDING OVATION!!!
Spies in the audience tell TMZ the crowd went insane when Sheen first walked on to the stage and instantly began chanting, "F**K DETROIT."
Sheen once again "performed" with the help of a moderator -- who fired off some questions to the Warlock and even took suggestions from audience members ... who screamed out topics throughout the night,
We're told security was "extremely tight" throughout the theater -- especially in the backstage area.
Here's a blow-by-blow on how things went down:
5:17 PM PDT: Charlie walks on to the stage sporting a Cleveland Indians jersey. The crowd goes wild.
5:26 PM: A heckler just asked Sheen, "Where's your coke?" He replied, "In your pocket!"
5:35 PM: Charlie is showing off a t-shirt that reads, "SHEENIUS."
5:45 PM: After several people asked Charlie about Emilio Estevez ... he responded, "Don't you guys want to hear about me?"
5:47 PM: One audience member tells us, "The show is one huge vehicle to sell merchandise, he is hocking everything he can on stage."
5:50 PM: Another audience chant -- this time directed towards Charlie's ex Denise Richards ... with people yelling, "F**K THAT B*TCH"
6:07 PM: Charlie says he's not an actual warlock -- but explained, "I have been able to spin magic the past couple of weeks ... you guys all bought tickets without knowing a damn thing about this show."
6:29 PM: Charlie is ready for hecklers -- someone screamed at him and he shouted back, "Leave, I already got your money!"
6:35 PM: Charlie talks about having a "terrible stuttering problem" when he was 8. He says, "Stuttering taught me how to listen, which we all have forgotten about."
6:40 PM: The goddesses just walked out on stage. We're told Charlie just pointed to audience members who are smoking weed and said, "That's winning!"
6:48 PM: Charlie asks, "How many 'Two and a Half Men' fans are here, and who wants to see me back on it?" Do I want to be back on it? Well f**k yeah I do! I made them 5 billion!"
6:50 PM: Charlie says, "I've had a ball in Cleveland. I should move here ... is anyone hiring?" Unemployment jokes kill in Cleveland.
6:55 PM: Crowd goes nuts when Charlie puts on an Indians hat, and then gives his dad props ... asking, "How many 'Apocalypse Now' fans are here? Martin Sheen, ever hear of him ... he's the coolest guy on the planet."
7:00 PM: Big finish -- Charlie says, "F**k Milwaukee! We are filming Major League 3 here! Cleveland do u feel like you are winning?" He closes with, "I love you all goodnight!" ... and walks off to a standing ovation."
Sounds like a full 180 from the opening night disaster in Detroit.