Katie Couric On the Verge of $20 Million ABC Deal
Katie Couric On the Verge of
$20 Million ABC Deal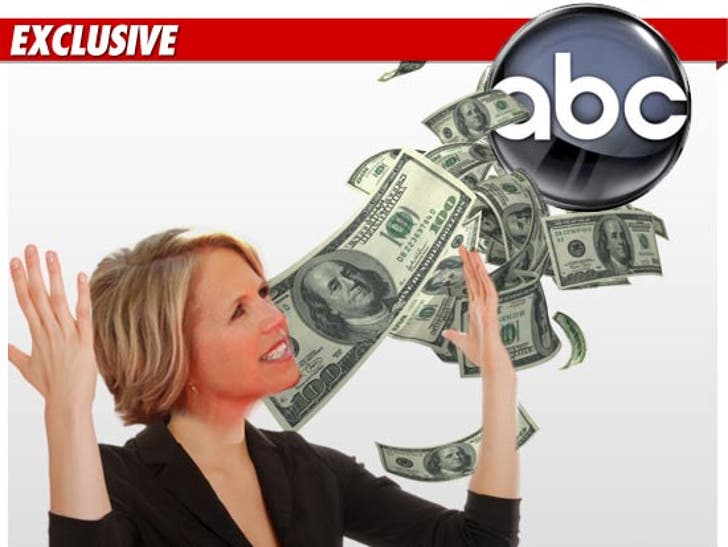 Katie Couric and ABC television are on the verge of signing a $20 million deal, which would give Katie her own talk show, as well as significant involvement in ABC News -- and the big casualty could be "General Hospital."

Sources connected with ABC tell TMZ -- under the deal that is in the final stages -- Katie would do specials for ABC News, "20/20," and do a significant amount of fill-in work -- including anchoring.
ABC would also give Katie a 1-hour, 5-day-a-week syndicated talk show, that would begin in September, 2012. Our sources say ... one option ABC is considering is giving its affiliates back the hour where "General Hospital" airs to make room for Katie. In other words, ABC would axe the third longest-running soap in history and the last one standing on ABC.
ABC is also realistic, believing that one of its two new 2011 syndicated shows will fail, leaving room for K.C.
We're told ... when the dust settles and ABC's daytime schedule gets rearranged, Katie would probably land in the 3 PM time slot.
BTW ... we're told Matt Lauer will NOT be part of Katie's show.
As for the moola, our sources say the entire package for Katie and her partner, Jeff Zucker is a $20 million GUARANTEE for the syndicated show -- and that's just for the the first year. We're also told Katie will get a "nominal amount" for her work in the news division.