Celebrity Poker Circle -- Pay Up or GET OUT!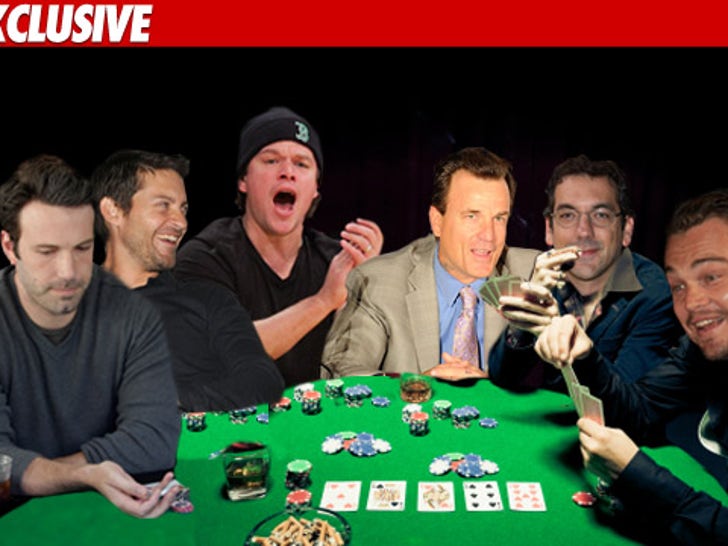 Tobey Maguire's super-exclusive high-stakes celebrity poker circle was SERIOUS when it came to cash -- in fact, TMZ has learned, if you didn't pay up ... you were blackballed for life.
A regular player in the exclusive poker circle -- which included Leo DiCaprio, Ben Affleck, Matt Damon, Nick Cassavetes and Todd Phillips -- tells TMZ, the poker games took place every Tuesday night for nearly 2 years ... from 2005-2007.
The circle was small -- only 8 or 9 players at a time -- and we're told, the mood was always "super serious" ... no joking, no drinking. The games would start around 10PM and go all night.
It wasn't uncommon for tempers to flare either -- we're told screaming matches happened on the regular ... and on the rare occasion, the table even got tossed over.
There was no official buy-in -- but we're told, hands often got as big as $150,000 a pot. We're told players would regularly lose $500,000 in one sitting ... no big deal.
But these guys weren't carrying briefcases of cash with them -- we're told most of the time, they played on credit ... and if someone didn't pay, that was it ... they were out of the circle forever.
Inside the room, there were dealers, massage girls, lots of security, food, and a full bar ... presumably for the spectators -- which included a list of billionaires ... and one time, the Olsen Twins.
As for who was the ultimate card shark -- we're told that was Tobey, no question.