Lawsuit: Shaq Told Me to KILL People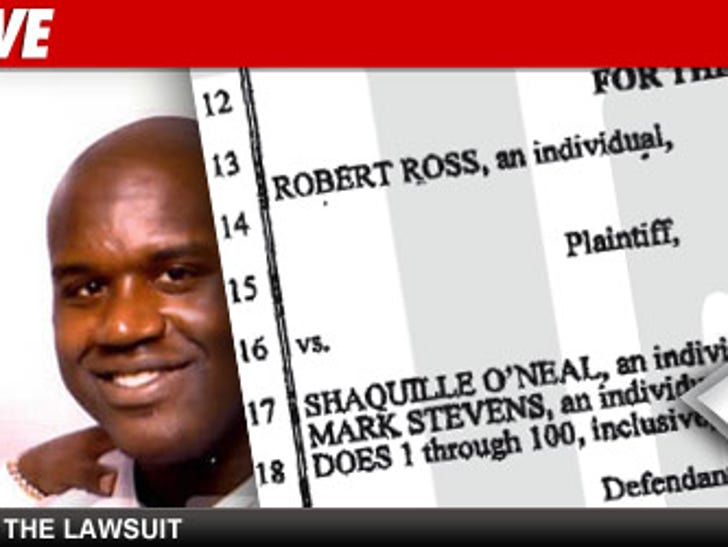 Shaquille O'Neal "requested and directed" his former friend to kill several people -- including a gang member, a record producer, and a woman he impregnated ... those are the shocking allegations in a new lawsuit obtained by TMZ.
Shaq's former pal Robert Ross -- an ex-gang member -- is suing O'Neal for allegedly masterminding a plot to have him kidnapped by other gang members back in 2008.
In the documents, filed today in L.A. County Superior Court, Ross claims O'Neal organized and funded a series of murders and brutal attacks on people who did him wrong.
In the suit, Ross alleges, "For many years O'Neal requested and directed [Ross] to perform many personal favors and directed him to perform various tasks including, but not limited to: ordering [Ross] to kill a member of the Downtown Gangster Crips who had disrespected O'Neal in front of his wife Shaunie."
O'Neal is also accused of issuing "an order to kill a woman whom O'Neal had impregnated and paid for her abortion" and "an order to kill a renown record producer."
Ross also alleges that O'Neal issued "an order to break an NBA player's shooting arm."
Ross -- who never says whether the alleged hits were carried out -- is suing for unspecified damages.
Shaq's lawyer, Michael J. Kump, tells TMZ ... "The outlandish claims by Robert Ross in his civil complaint are pure fiction. Shaquille O'Neal befriended Mr. Ross in an attempt to help turn his life around. Sadly, Mr. Ross abused that friendship again and again.
Kump adds, "Shaquille's commitment to law enforcement is well-known and documented. He will not dignify these defamanatory allegations with a response."