People vs. Dr. Conrad Murray -- Michael Jackson's Security Guard Alberto Alvarez Testifies
People vs. Dr. Conrad Murray
MJ's Security Guard:
Murray Had Me Remove Vials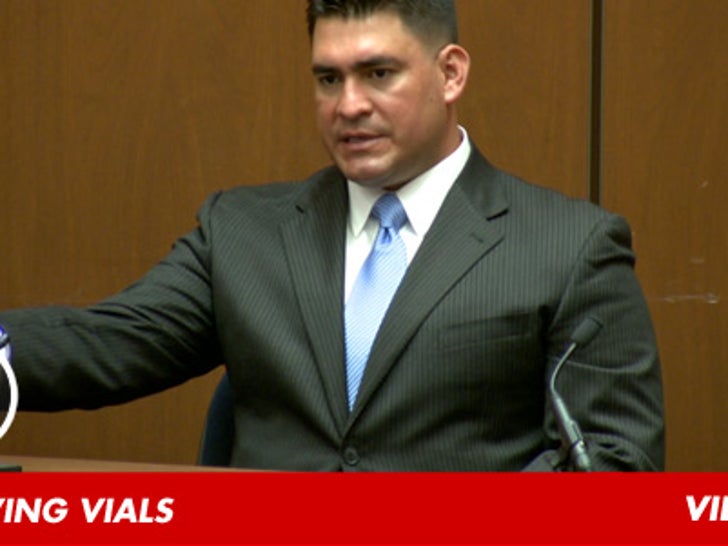 Alberto Alvarez -- Michael Jackson's Security Guard Testifies
Updated 9/29/11 at 8:48 AM


Michael Jackson's security guard Alberto Alvarez -- the man who called 911 the morning MJ died -- just took the stand, claiming Murray asked him to remove several vials of Propofol before he called an ambulance.
Alvarez claims he quickly arrived at the scene on June 25th, 2009 -- and saw Murray performing one-handed chest compressions on MJ, who was still in the bed. According to Alvarez, Murray immediately asked him to pack away several vials and an IV bag.
Alvarez claims there were two saline bags on the IV stand, but Murray cared only about the one that contained a vial with a "milky white substance."
Alvarez claims Murray THEN asked Alvarez to call 911 -- at which point the dispatcher ordered him to move Michael from the bed to the floor in order to perform CPR. According to Alvarez, paramedics arrived soon after.
Defense attorney Ed Chernoff tried to get Alvarez to admit he may have been confused about the timing of the events -- but Alvarez insisted ... Murray ordered him to bag the vials BEFORE paramedics arrived.
Alvarez says he has been offered enormous sums to provide interviews to media outlets -- as much as $500,000.
The defense just showed footage inside a hospital room where MJ's body was relocated after the singer was pronounced dead -- and the place was crawling with cops.