The Game -- My Homie ALSO Beat Up 40 Glocc ... On Tape
The Game
My Homie ALSO Beat Up
40 Glocc ... On Tape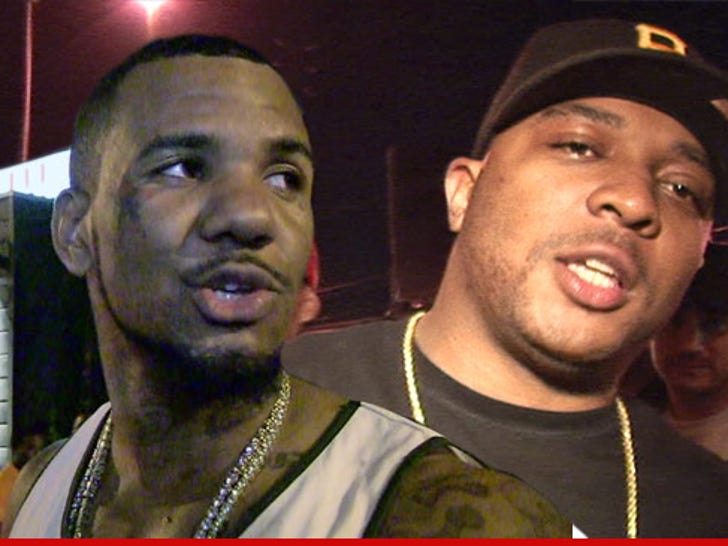 TMZ.com
The Game says he plans to release NEW footage showing rapper 40 Glocc getting beat up by a member of Game's crew during a violent encounter in the Hollywood Hills.
Game just called in to Power 99's Cosmic Kev ... and said one of his friends attacked 40 Glocc AFTER he punched the rapper during the initial encounter this past weekend.
Game says the 2nd attack happened after he had already left the scene ... fearing the cops were on the way.
Game also explains why he went after 40 in the first place -- saying he believes 40 started a Twitter account posing as Game's oldest child ... and had used the account to trash The Game.
Game admits he was looking to pick a fight with 40 on the day of the encounter ... and says the only reason he stopped his brutal assault on the guy is because he didn't want to kill him or put him in a coma ... "because then I'd get 25 to life."
"What I wanted to do was beat his ass like I wanted to ... without really putting him into a position where he was a vegetable or something."
40 Glocc maintains he was "jumped" by Game and Game's crew ... and claims he only tried to run away because some of his attackers were carrying guns. 40 has said he does not plan to pursue legal action against Game.
Game says he plans to release the new footage in the next couple of hours.