Justin Bieber FLIPS OUT at Photographer -- 'I'll Beat the F**k Out of You'
Justin Bieber
Flips Out at Photog
'I'll Beat the F**k Out of You'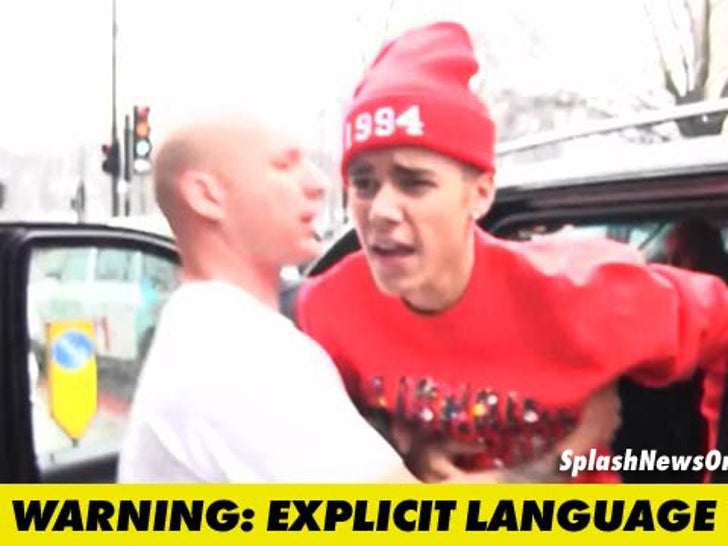 Justin Bieber's feeling better -- in fact, he's feeling good enough to FIGHT ... 'cause he just went after a photog in London ... and screamed, "I'LL F**KING BEAT THE F**K OUT OF YOU."
Bieber -- flanked by bodyguards -- was leaving a Central London hotel moments ago ... and in the mad scramble to his SUV, he made contact with a waiting photog.
The photog -- NOT a TMZ photog -- was clearly upset by the physical contact and immediately claimed he was assaulted. He then began to cuss out Bieber, who was already inside the waiting SUV.
But Bieber clearly heard the photog's insults ("f**k off back to America", "f**king little moron") ... 'cause the singer opened his SUV door and sprung out of the car ... trying to attack the photog.
While Bieber's bodyguard held him back, the singer screamed ... "What the f**k you say?"
The photog shot back -- "You heard what I said ... you heard what I f**king said, mate."
Bieber replied, "I'll f**king beat the f**k out of you."
Justin tried to swing at the photog, but his bouncers kept the singer at bay ... and eventually pushed him back inside the SUV.
The car left the scene without further incident.
Bieber just tweeted about the incident ... saying, "Ahhhhh! Rough morning. Trying to feel better for this show tonight but let the paps get the best of me."