Andrew Wiggins -- My Style Influence Is ... Cruella de Vil
Andrew Wiggins
My Style Influence Is ...
Cruella de Vil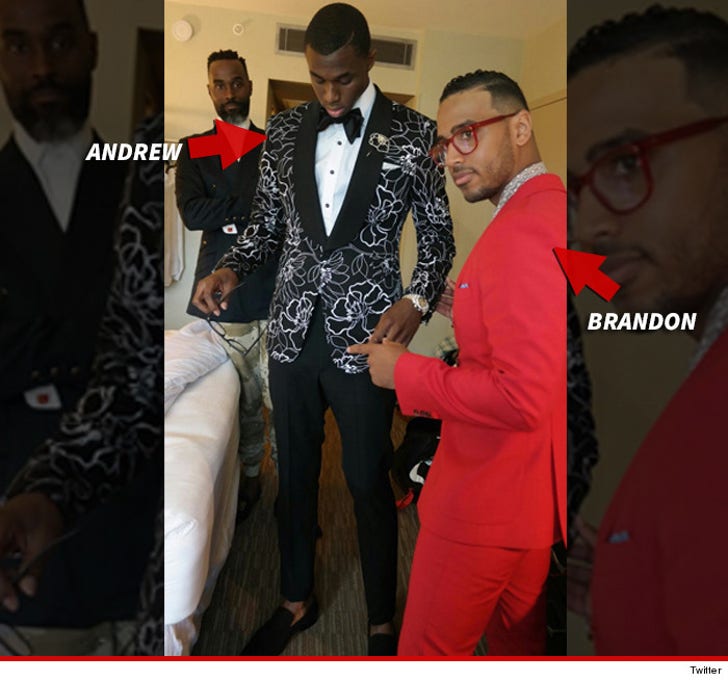 EXCLUSIVE
What do Andrew Wiggins and Cruella de Vil have in common? They both wanted dalmatian-patterned jackets ... TMZ Sports has learned.
Don't worry ... no puppies were harmed in the making of Andrew's NBA Draft outfit -- but his stylist tells us Wiggins' original plan was to rock a dalmatian-print jacket to the big show.
"Andrew has a style of his own, but we wanted to step it up," Wiggins' personal stylist Brandon Williams tells us ... "We wanted to set him completely apart. Make Andrew look different than any other player."

Williams says the most important part of the outfit was the jacket -- but things didn't exactly go as planned.
"The original print was a Dalmatian print ... but the fabric was sold out. So we were really sweating it. I ended up going to an upholstery fabric store ... fabric for furniture, couches ... I saw the floral print. I thought it might be too much, but Andrew liked it. He's a young guy. He has swagger."
Williams says his team, which included celeb designer Waraire Boswell, raced to put the ensemble together -- and couldn't have been happier with the final result.
"The suit gave him confidence. He looked like the #1 pick, and he felt like the #1 pick."
As we previously reported, Andrew's camp tells us he's considering auctioning off the suit for charity -- but so far, no official decision has been made.