Eric Dickerson -- Jared Goff, Rams, Chill At E.D.'s House ... Get Rookie Lecture
Eric Dickerson
Jared Goff, Rams, Chill At E.D.'s House
...Get Rookie Lecture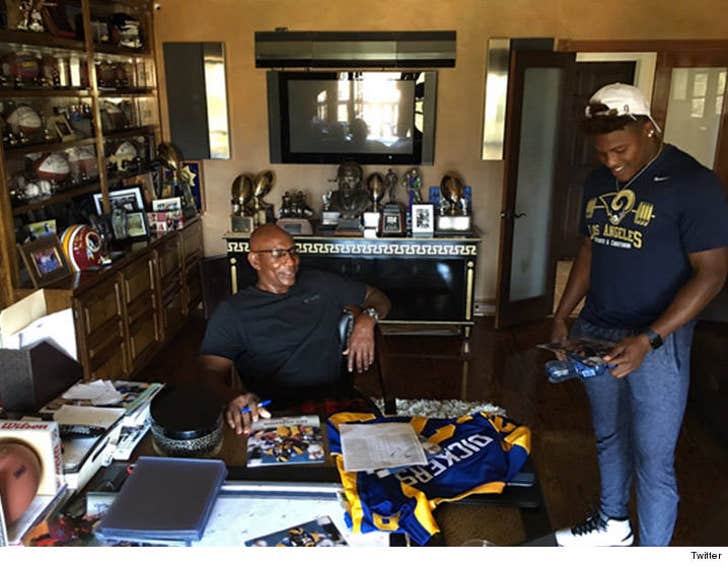 Exclusive Details
NFL Hall of Famer Eric Dickerson invited Jared Goff and the rest of the Rams rookies to his L.A. house last night to chill and eat ... and talk about life as a rookie in the National Football League.
The NFL cancelled it's league wide "rookie symposium" this year. Instead, teams are hosting their own classes. The point ... prepare young players for the real-life challenges of being a pro athlete.
The Rams had asked former players -- including Hall of Famer Aeneas Williams -- to talk to the young players at the Rams facility in L.A. They had scheduled Dickerson to speak on Wednesday.
But a rep for the Rams tells TMZ Sports that Dickerson didn't want to hold a classroom lecture ... instead, he suggested the players come to his home for a casual dinner and conversation.
The rep says the ENTIRE rookie class accepted the invitation -- everyone from #1 overall pick Jared Goff to the undrafted 1st year players ... roughly 20 players in total.
As for what they discussed, that's between them -- but we're guessing it was a lot of the usual ... don't get arrested, don't spend your money on dumb stuff, act like a pro, etc.
Hopefully the rookies paid attention -- and weren't distracted by the awards, trophies and replica Hall of Fame bust.