Times Square Crash, Driver Looked Insane Seconds After Plowing Through Crowd
Times Square Tragedy
Driver Looked Insane After Plowing Through Crowd
Richard Rojas, the 26-year-old driver in custody for slamming into Times Square and killing one pedestrian ... had an absolutely insane look on his face seconds after the crash.
We obtained these pics taken just as Rojas had jumped out of his Honda sedan. He seems to be attempting to run away from the death and destruction behind him. You can also see the horror on the faces of his victims ... some of them clinging to young children.
Rojas didn't get far. NYPD officers, as well as civilians, immediately chased him down and nabbed him.
Law enforcement sources tell us Rojas admitted smoking marijuana Thursday morning before he got behind the wheel. Police say he drove the wrong way on 7th Ave for a few blocks before swerving onto the sidewalk at 42nd street and accelerating through the crowd for 3 blocks.
Cops say Rojas has previous arrests for DWI, one in 2008 and one in 2013. His most recent arrest was earlier this year for menacing.
NYPD confirmed the victim who died on scene was an 18-year-old girl, and at least 22 others were injured.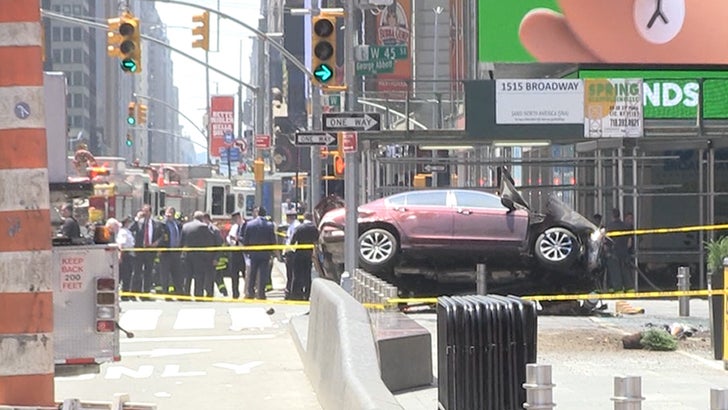 TMZ.com