UFC's Khabib Nurmagomedov: I'll Fight Conor McGregor for Free
UFC's Khabib Nurmagomedov
I'll Fight Conor for Free
... Punk.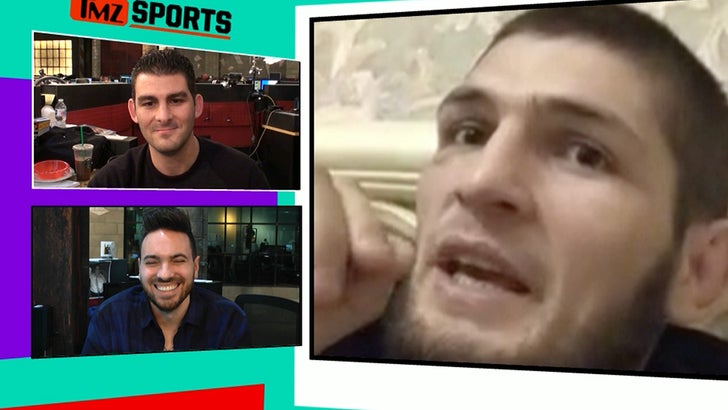 TMZSports.com
Khabib joined the guys on the "TMZ Sports" TV show (airs weeknights on FS1) ... and went off on McGregor after Conor trashed his homeland, Dagestan, on Twitter.
Backstory -- after Khabib smashed Edson Barboza at UFC 219, McGregor tweeted at Khabib -- "That Dagestani was dog sh*t the other night you's are all nuts. Game full of sloppy bums asking to be slept. Pay me my worth and Kings back."
You better believe Khabib took that personally ... telling us Dagestan has produced WAY more UFC victories than Irish fighters, so Conor should shut his trap.
He also bashed Conor for only taking fights with "45-year-old Floyd Mayweather" and "marijuana guy" Nate Diaz.
"I don't fight for the money. I fight for my legacy. I fight for history. I fight for my people. That's why I'm here."
Watch "TMZ Sports" weeknights on FS1.