Sean Penn Clowns Bradley Cooper at Event Honoring 'Star is Born' Star
Bradley Cooper
A Star is Roasted
By Sean Penn!!!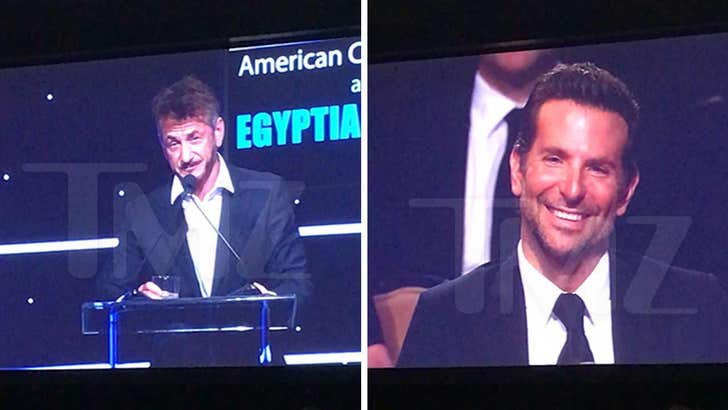 TMZ.com
Sean Penn busted out his sense of humor all over his pal Bradley Cooper ... just in time for Bradley's huge Hollywood achievement.
BC was honored with the American Cinematheque Award Thursday night at The Beverly Hilton. The star-studded dinner featured plenty of tributes from his fellow actors and collaborators, but Sean's stood out because it included a pretty funny stroll down memory lane.
Sean started off his toast by telling the crowd something felt strangely familiar about this scenario ... which led perfectly into a viral clip of Cooper -- from almost 20 years ago -- as an aspiring actor asking Penn a question on "Inside the Actors Studio."
To be fair, the clip Sean showed was slightly doctored -- in the original, he answers Cooper's question about "Hurlyburly" right away ... but still pretty hilarious.
Sean did praise Bradley and labeled him one "handsome motherf**ker."
Cooper was also less roasted, and more toasted, by Jennifer Garner, Zach Galifianakis, Ed Helms, Vince Vaughn and his 'Star is Born' co-star Lady Gaga.