'KUWTK' Clip of Kim Kardashian Defending Kanye's Slavery Remark Won't Be on the Show
Kim Kardashian
'KUWTK' Clip About Kanye & Slavery
Wasn't Supposed to See Light of Day
10:15 AM PT -- We're told the clip of Kim claiming Kanye didn't say slavery was a choice ... will NOT appear in the upcoming 'KUWTK' episode. It was never approved for the episode, because when Kim watched it back, she realized it was inaccurate and not reflective of what happened at TMZ that day.
The preview clip has been pulled by E!.
Kim Kardashian is trying like hell to justify Kanye West's slavery comment -- the problem is she's fully misquoting her husband, and clearly does NOT remember what he actually said.
On the next episode of 'KUWTK,' she has a convo with Jonathan Cheban and Simon Huck about Kanye's May 1 appearance on "TMZ Live" ... and the convo is rife with falsehoods. First, Huck says "the way they edited that clip." It was not edited.
Then there's Kim saying this, "If you listen to what he said, he said, 'Slavery was 400 years? If it's gonna be another 400 years, that sounds like a choice to me.' He didn't say, 'Slavery is a choice.'"
Here's the clip, so you can listen to what Kanye actually said. There is clearly NO reference to a future 400 years. The actual quote -- "When you hear about slavery for 400 years, for 400 years??? That sounds like a choice. Like, you was there for 400 years and it's all of y'all?"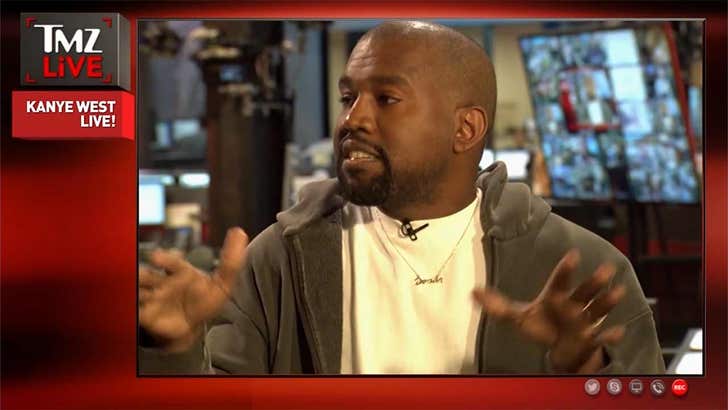 TMZ.com
Kim can have whatever interpretation she wants of Kanye's words. We get that. But, to say we edited him or misquoted him ... is a lie.
On the 'KUWTK' episode she adds, "Kanye's slavery comment ... he never said that. That was just the headline."
Originally Published 7:34 AM PT