NFL's Tarvaris Jackson Dies In Car Crash at 36, Photos Show Terrifying Scene
Tarvaris Jackson
Ex-NFL QB Dies In Car Crash
... Photos Show Terrifying Scene
7:52 AM PT -- TMZ Sports has obtained photos of the scene of the crash ... and they're horrifying.
You can see in the pictures, Jackson's Camaro was overturned next to a tree on the side of the road ... and the car was severely mangled.
The rear of the vehicle as well as the front of it appeared to have been heavily damaged in the crash ... while debris was scattered all over the road.
7:14 AM PT -- According to law enforcement, Jackson's vehicle hit a tree just before 9 PM on Sunday -- causing the car to overturn. It was a single-car accident.
Jackson was rushed to a local hospital where he was ultimately pronounced dead.
We're told Jackson was involved in a wreck late Sunday night in Alabama, where he grew up.
Russell Wilson tweeted about his former teammate early Monday morning -- saying, "TJack... you will be missed. Praying for your family...Love you man."
Recently, he had been working as a quarterback coach for the Tennessee State football team.
"My heart is so heavy with hurt hearing of the passing of Coach Jackson," said TSU's athletic director, Teresa Phillips. "We were blessed with him for a short time but he did make an impact with our young men in this one season at TSU."
"Our thoughts and prayers go out to his young family and all who knew and loved him."
Added TSU head coach Rod Reed, "We are devastated. He was an awesome young man and he will be missed by our players, our staff and the TSU family."
Jackson was a stud football player in high school -- and later played at Arkansas before transferring to Alabama State, where he balled out for 3 seasons.
The Minnesota Vikings selected Jackson in the 2nd round of the 2006 NFL Draft, with head coach Brad Childress calling the QB a "diamond in the rough."
Jackson spent 4 years in Minnesota before signing with the Seahawks, Bills ... and then a 2nd stint with the Seahawks, where he served as Wilson's backup until 2015.
We spoke with Jackson's former Vikings teammate, Bryant McKinnie -- who spent 5 seasons with TJ -- about the passing of his longtime friend.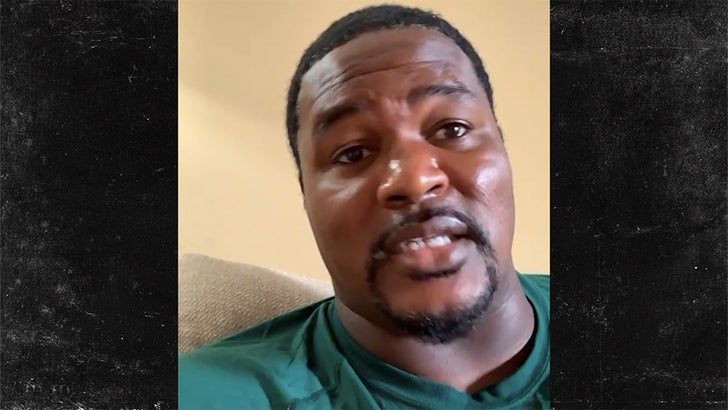 TMZSports.com
Originally Published -- 6:38 AM PT