NASCAR Driver Kyle Larson Apologizes for N-Word, 'An Awful Thing to Say'
NASCAR Driver Kyle Larson
Apologizes for N-Word
... 'An Awful Thing to Say'
3:07 PM PT -- Two major sponsors have just cut ties with Larson ... with McDonald's and Credit One Bank blasting the driver for his actions while terminating their deals with him.
"We were extremely disappointed and appalled to hear about this incident," McDonald's announced Monday. "The comments made by Kyle Larson are insensitive, offensive and not reflective of our inclusive values and will not be tolerated. McDonald's is taking immediate action to terminate the relationship with Larson."
Added Credit One, "Credit One Bank denounces the highly offensive language used by Kyle Larson during Sunday's iRacing event. In addition to the quick actions taken by NASCAR and Chip Ganassi Racing, Credit One Bank is terminating its sponsorship of Kyle Larson."
9:26 AM PT -- Larson just issued a video apology -- saying, "I just want to say I'm sorry."
"Last night I made a mistake and said the word that should never ever be said and there's no excuse for that."
"I wasn't raised that way and it's just an awful thing to say. I feel very sorry for my family, my friends, my partners, the NASCAR community and especially the African-American community."
"I understand the damage is probably unrepairable and I own up to that. I just want to let you all know how sorry I am and I hope everybody is staying safe during these crazy times."
8:05 AM PT -- Larson's team, Chip Ganassi Racing, just suspended the driver without pay while it investigates the situation.
"We are extremely disappointed by what Kyle said last night during an iRacing Event," the team said in a statement ... calling Larson's comments "offensive and unacceptable."
"As of this moment we are suspending Kyle without pay while we work through this situation with all appropriate parties."
7:25 AM PT -- A rep for NASCAR tells TMZ Sports ... "NASCAR is aware of insensitive language used by a driver during an iRacing event on Sunday, and is currently gathering more information."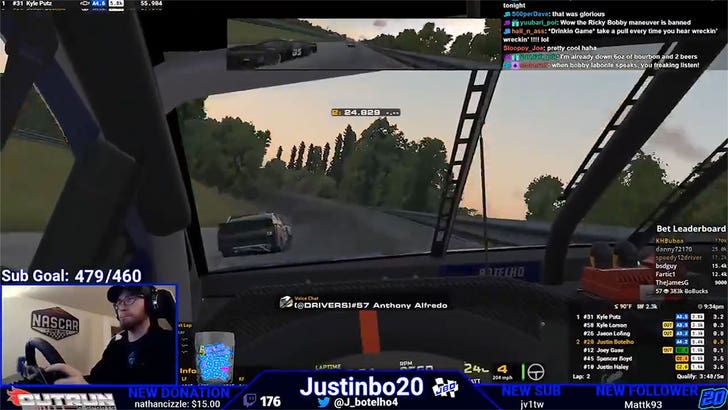 4/13/20
NASCAR driver Kyle Larson has big problems -- the 27-year-old dropped an n-bomb during a virtual race on Easter Sunday ... with the hard R and all.
Larson -- who drives the #42 car during the NASCAR Cup Series -- was competing in an iRacing event, streamed live to thousands of people on Twitch.
After crashing during Lap 6, Larson apparently had a difficult time communicating with other drivers and that's when things got bad.
"You can't hear me? Hey, n****," Larson said casually.
The comment was immediately met with shock from other drivers, who commented (vocally) on the live stream,
Anthony Alfredo: "Kyle, you're talking to everyone, bud."
Aaron MacEachern: "Yup, we heard that."
Justin Botelho: "Oh, damn! He did not just say that."
By the way, Larson is half Japanese and has talked about how the NASCAR "Driver for Diversity" program helped him get to the big show.
He is the only active NASCAR driver of Japanese descent.
FYI, the race itself was called Monza Madness -- at the famous Autodromo Nazionale Monza in Italy -- and featured top drivers from NASCAR, IndyCar, NHRA and the eSports world.
Originally Published -- 5:45 AM PT