Nick Cannon Dropped By Viacom After Anti-Semitic Comments on His Podcast
Nick Cannon
Dropped By Viacom
After Anti-Semitic Remarks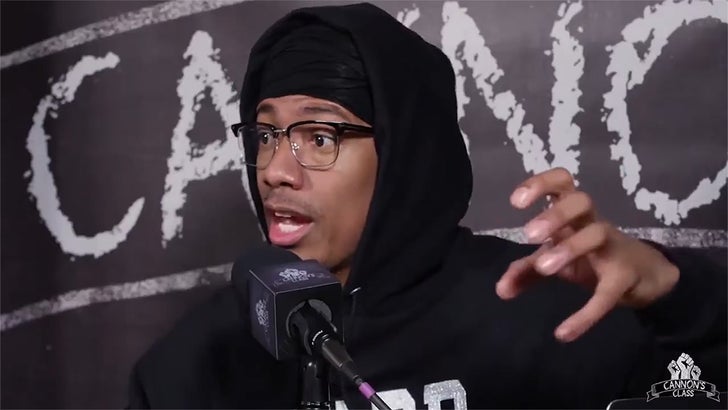 JUNE 2020
Cannon's Class
7:52 PM PT -- Nick Cannon has been dropped by ViacomCBS after he made anti-Semitic comments on his podcast.
The announcement came Tuesday afternoon, amidst a downpour of outrage and backlash toward the 'Wild n' Out' star after he made very controversial claims on his podcast that many considered deeply troubling and downright hateful.
Turns out, Viacom agreed. They severed ties on Tuesday, stating, "ViacomCBS condemns bigotry of any kind and we categorically denounce all forms of anti-Semitism."
"We have spoken with Nick Cannon about an episode of his podcast 'Cannon's Class' on YouTube, which promoted hateful speech and spread anti-Semitic conspiracy theories. While we support ongoing education and dialogue in the fight against bigotry, we are deeply troubled that Nick has failed to acknowledge or apologize for perpetuating anti-Semitism, and we are terminating our relationship with him."
In the same podcast in which Nick suggested white people were "a little less" than darker-skinned people, he also stated, "You can't be anti-Semitic when we are the Semitic people."
He went on "When we are the same people who they want to be. That's our birthright. We are the true Hebrews."
Cannon issued his own non-apology on Monday, stating, "Anyone who knows me knows that I have no hate in my heart nor malice intentions. I do not condone hate speech nor the spread of hateful rhetoric."
He then invited people to step up and go toe-to-toe. "I encourage more healthy dialogue and welcome any experts, clergy, or spokespersons to any of my platforms to hold me accountable and correct me in any statement that I've made that has been projected as negative."
Viacom is the parent company of MTV, home to Cannon's 'Wild n' Out' gig, and also home to Nickelodeon, where Cannon got his start in the '90s.
Nick Cannon's under fire for comments he made about melanin, white people and why they became "savages" long, long ago -- and some are even calling him a "black supremacist."
"The Masked Singer" host has recently been accused of spewing anti-Semitism on his podcast, "Cannon's Class," but now it's this brief clip from his June 30 episode with Professor Griff -- formerly of Public Enemy -- that has people riled up.
Nick said that the power of melanin -- or lack thereof -- made white people "a little less" than darker-skinned people ... and claims this deficiency leads to fear.
He was speaking anthropologically -- meaning the very first white people in modern-day Europe -- but went on to say white people's fear made them lack compassion and ultimately ... become evil.
Nick then referred to these white people of the past as "savages," "barbaric" and added ... "They're the ones that are actually closer to animals, they're the ones that are actually the true savages."
Now, some people are calling him out for the remarks, including black British rapper Zuby, who tweeted, "Nick Cannon has gone full black supremacist. This is 100% certified racist."
Cannon's controversy comes on the heels of allegations of being an anti-Semite and spreading anti-Jewish theories on his podcast ... so rough week so far.
Originally Published -- 4:38 PM PT