Mug Shot of Woman Arrested After Crashing into Store, Fleeing in Uber
Woman Crashes into Store
All Dressed Up and Nowhere to Go ...
Busted After Fleeing in Uber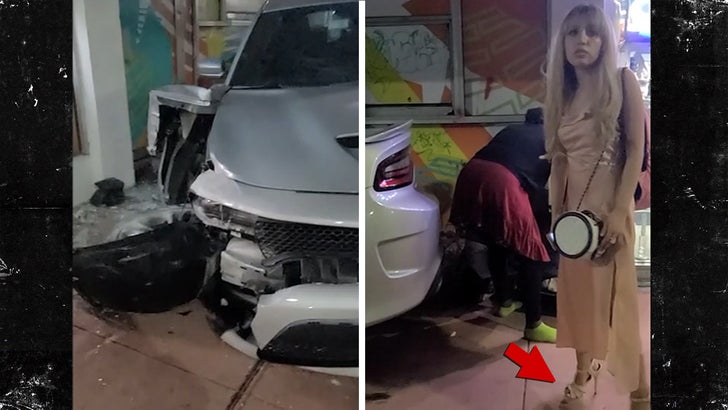 MEGA
11:31 AM PT -- According to the arrest report obtained by TMZ ... the woman's been identified as 27-year-old Sharon Martinez. She's been booked on a charge of leaving the scene of an accident with property damage.
Cops say she was the only person in the vehicle, and caused approximately $5,000 in damage to the store she hit.
But, get this -- police also arrested the guy they say was the driver of the car Martinez fled in, and he's facing a charge of accessory after the fact. According to the arrest report ... the guy admitted to being aware Martinez was involved in a traffic crash when he helped her leave.
A woman dressed in a ball gown and heels went off-roading in South Beach, slammed into a store, nearly hit someone ... then casually fled the scene, but cops still nabbed her.
The bizarre hit and run went down shortly after midnight Tuesday, and a witness recorded the aftermath of the crash, where he says a homeless woman on the street was almost run over.
The decked-out driver appears to be unscathed and surprisingly calm ... especially as she gets her gear out of her smashed-up Dodge Charger and orders a ride.
She continues to ignore the incredulous crowd as her Uber shows up and she hops in ... but she doesn't get too far.
Police arrive at the scene and enlist the help of the guy who recorded the incident, and he helps ID her as other officers appear to be arresting her.
Originally Published -- 9:37 AM PT