Jussie Smollett Sentenced to 150 Days in Jail in Hoax Hate Crime Case
Jussie Smollett
150 Days in Jail, 30 Months Felony Probation
Judge Calls Him 'Arrogant, Selfish, Narcissistic'
6:49 PM PT -- A rep for Cook County Sheriff's office tells TMZ — Jussie will be given a comprehensive medical and mental health assessment by Health services, a security assessment and will be placed in appropriate housing. He will also be tested for COVID at intake and will be offered vaccination if he has not been previously vaccinated or gotten the booster.
6:37 PM PT -- We've just obtained Jussie's mugshot, he's stone-faced. As the judge said during the hearing, he will begin his sentence immediately.
Jussie Smollett was just sentenced to 150 days in Jail for his elaborate hoax on the streets of Chicago ... and Jussie went off on the judge, telling him if he dies in prison it's not suicide. It got so intense, Jussie was taken into custody and left with his fist in the air.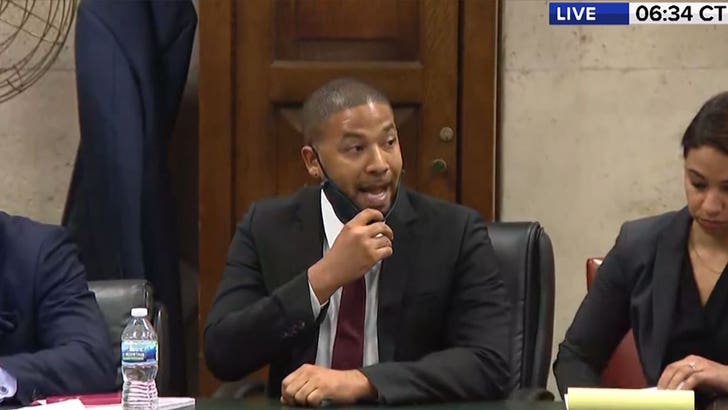 3/10/22
WGN
Judge Linn just handed down the sentence ... which also includes 30 months felony probation, $120,106 restitution to the city of Chicago and will pay a $25,000 fine.
Judge Linn pointed to Jussie's testimony during trial, when he talked about his life ... and he talked about social justice and how much it meant to him and his family. And, the judge noted the irony and hypocrisy that Jussie engineered a hate crime hoax.
Judge Linn says Jussie wasn't motivated by money ... he did it because he craved the attention and thought he could boost his profile by tapping into the social justice movement in America. He said he just wanted to make himself more famous, throwing himself a "national pity party."
The judge called Jussie arrogant, selfish, narcissistic, and he did damage to real victims of hate crimes. Victims are always reluctant to come forward, and Jussie did them no favors. The judge says Jussie lied ... lied and lied repeatedly about the incident.
The judge made it clear he was not sentencing Jussie to satisfy public opinion ... it was purely a matter of what Jussie did. The judge said there was nothing he could do that would be worse than what he did to himself, saying Jussie destroyed his life by his shenanigans.
Jussie declined to speak in open court before sentencing ... his lawyer advised against it.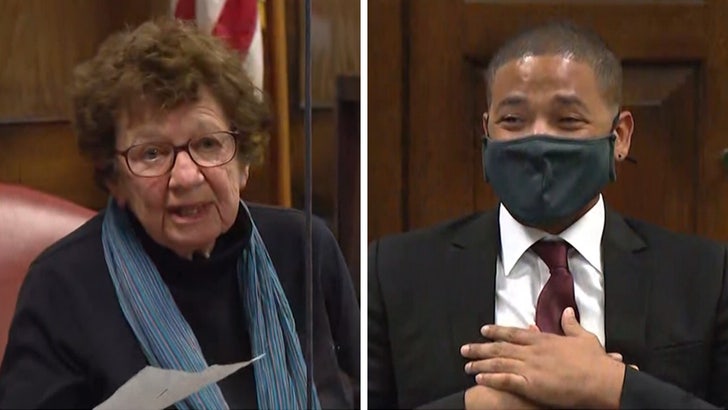 3/10/22
WGN
Jussie's 92-year-old grandma got on the stand to plead for leniency, and she launched on the media for not reporting the story accurately. She called him a "justice warrior," who has been steeped in social activism for years. She told the judge, if he sends Jussie to prison he should send her along with him.
The lawyer for the City of Chicago made it clear ... this was not a victimless crime, saying more than 30 Chicago cops investigated the case and had to review more than 1500 hours of surveillance video. They went door to door in the freezing cold to get to the bottom of the case. They amassed more than 1,000 in overtime, and it caused fatigue and stress. The lawyer also said Jussie has made real hate crime victims hesitant to come forward.
Jussie's lawyer made a series of arguments during the hearing, imploring the judge to throw out the verdict. Notably, his lawyer argued because of the pretrial publicity by City officials -- including the Police Commissioner -- Jussie did not enjoy the constitutional protection of being presumed innocent. The judge rejected that argument.
The judge also turned thumbs down on the argument Jussie was entitled to a public trial and that, his lawyer argued, was not the case. The special prosecutor fired back, even during a pandemic, the trial was open to reporters and also, the defense didn't want cameras in the courtroom during the trial, so it's rich they're making this argument now.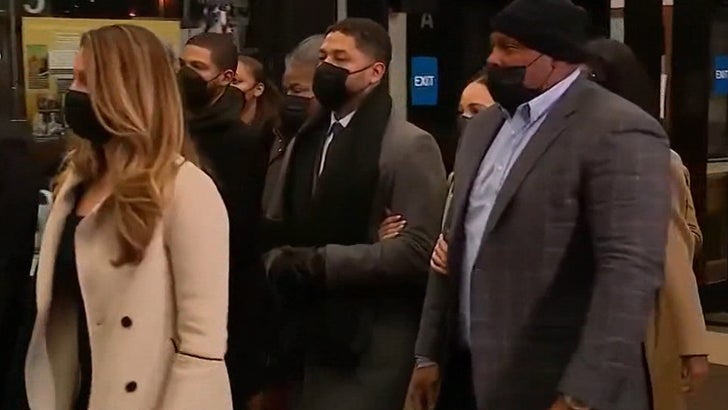 DECEMBER 2021
Fox
A jury found the "Empire" actor guilty of 5 of the 6 felony counts against him for lying to Chicago police about being the victim of a racist, homophobic attack.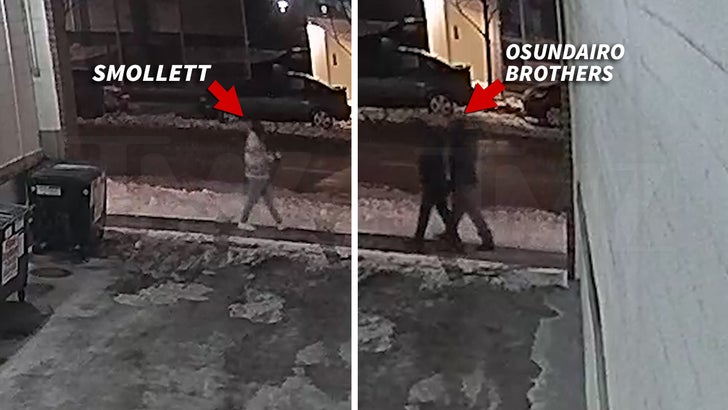 January 2019
TMZ.com
You'll recall ... the infamous "attack" went down Jan. 29, 2019, when Jussie claimed 2 white males jumped him, punched him, threw a noose around his neck and hurled slurs at him ... all while screaming, "This is MAGA country!!!" As you know, the 2 men were actually the Osundairo brothers, and the special prosecutor noted, one thing was clear ... they are not white.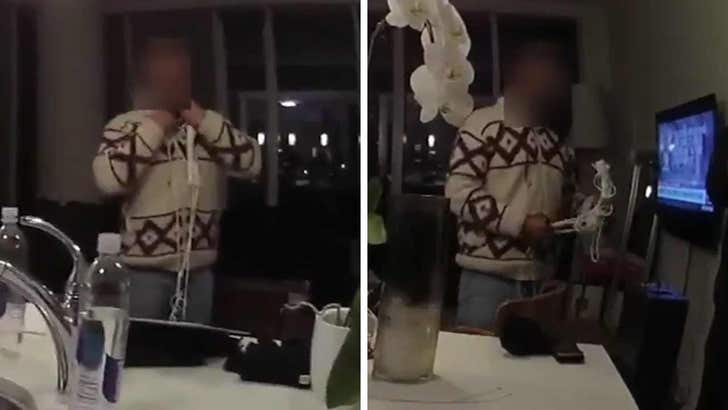 1/29/2019
Jussie reported the alleged crime to cops ... greeting officers at his home with a rope still loosely wrapped around his neck. But, doubts about Jussie's story began to surface shortly thereafter, and police eventually claimed the actor had made the whole thing up.
Jussie was initially indicted on 16 charges, but they were dismissed ... with his only punishment being the forfeiture of his $10k bond. That did not go over well in the public, especially with Chicago PD, and a special prosecutor was appointed ... who ended up charging Jussie with the 6 counts for which he stood trial.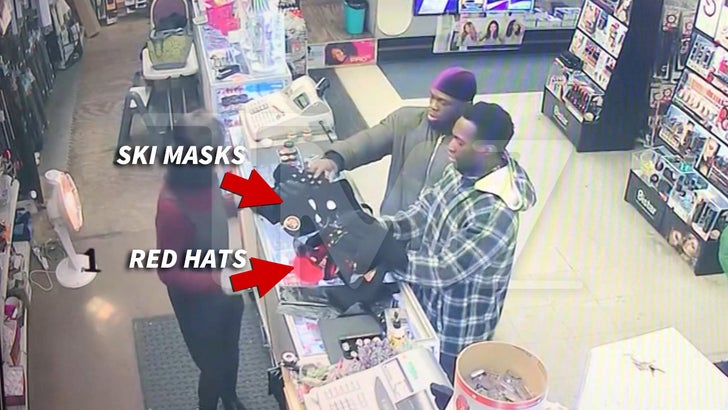 TMZ.com
Jussie's maintained his innocence the entire time, insisting he did not hire the Osundairo brothers, Abel and Ola, to stage the "attack" on a chilly Chicago night.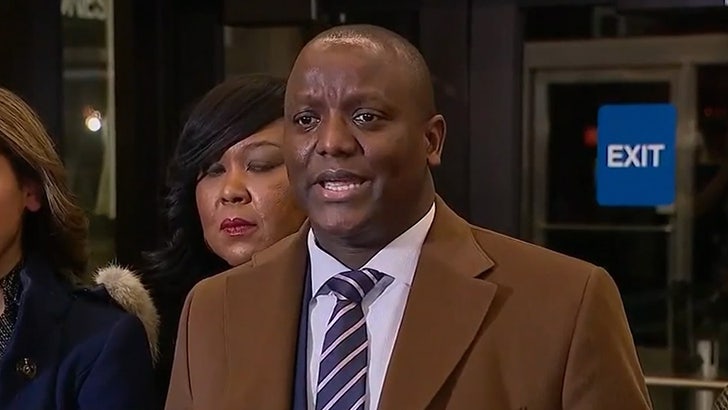 Fox
However, the brothers testified Jussie instructed them on where to meet to carry out the "attack" and even paid them to buy supplies.
The City of Chicago has also sued Jussie in a separate civil action over the resources spent investigating his claims, which is being pegged at $130,000.
Originally Published -- 11:00 AM PT