Kyrie Irving Can Play Home Games Again After NYC Mayor Lifts Vax Mandate
Kyrie Irving
Allowed To Play In BK Again
... NYC Mayor Lifts Vax Mandate
10:27 AM PT -- 3/24 -- It's official -- Kyrie will be able to take the court at Barclays Center once again ... as the mayor just lifted the mandate.
The NBA and Players Association released a statement on Thursday ... saying, "With today's announcement, we support the Mayor's determination that the old rules treating hometown and visiting players differently no longer made sense, particularly because unvaccinated NBA players will continue to test daily."
"We applaud the Mayor for listening to the concerns of our New York teams, players, fans and communities and for leveling the playing field for home teams and their opponents."
After a long standoff with NYC vaccine mandates, Kyrie Irving will be allowed to play in home games once again ... as a new exemption will allow in-town athletes and performers to work indoors and on the court again.
Irving will be eligible to make his home debut at Barclays Center on Sunday when his Nets take on the Hornets, according to The Athletic's Shams Charania.
The new exemption -- which was just reported Wednesday -- will be effective immediately beginning Thursday.
Irving was sidelined for a majority of the season over his refusal to get jabbed ... but he's since been allowed to play in road games for the Nets.
The mayor previously expressed his desire to see Irving on the court, but said he would not change the rules just to accommodate Kyrie.
Irving has missed a substantial amount of games this season due to the current mandate that required players to be vaxxed ... which, of course, he is not.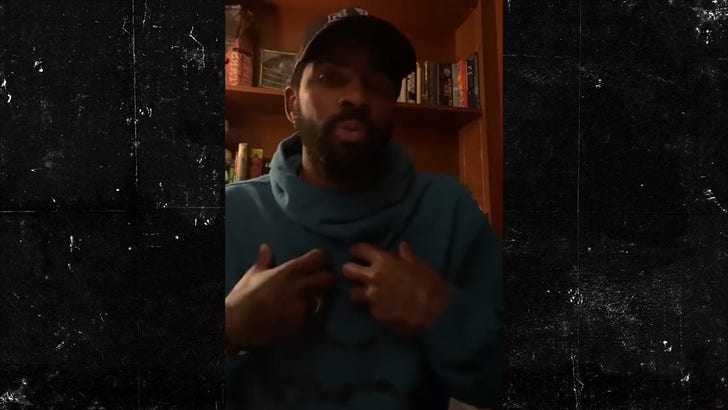 10/14/21
The NBA champ had been criticized from several high profile celebrities like Howard Stern and Chris Rock ... but he refused to cave in and get the shot.
NBA commish Adam Silver has called for Irving to get vaccinated ... but recently admitted he felt the current mandates in NYC made no sense.
The Nets were recently fined $50,000 by the NBA for breaking the NBA's COVID-19 protocol ... after Kyrie was spotted in the Barclays Center locker room after a game.
At the time, Irving was allowed to watch games in the arena, but NOT be in a workplace environment -- AKA, he couldn't be in the locker room. Silly, we know.
Waiting for your permission to load the Instagram Media.
The change comes ahead of MLB Opening Day ... which means Yankees and Mets players are also breathing a sigh of relief.
No official announcement yet ... but it's just a matter of time.
BTW -- it's Irving's birthday on Wednesday ... so it's a pretty great gift.
Originally Published -- 3/23 3:58 PM PT