'Barbie' and 'Oppenheimer' Snag Top Spots In Their Opening Weekend
Barbie & Oppenheimer
Smash Records At The Box Office ...
In Their Opening Weekend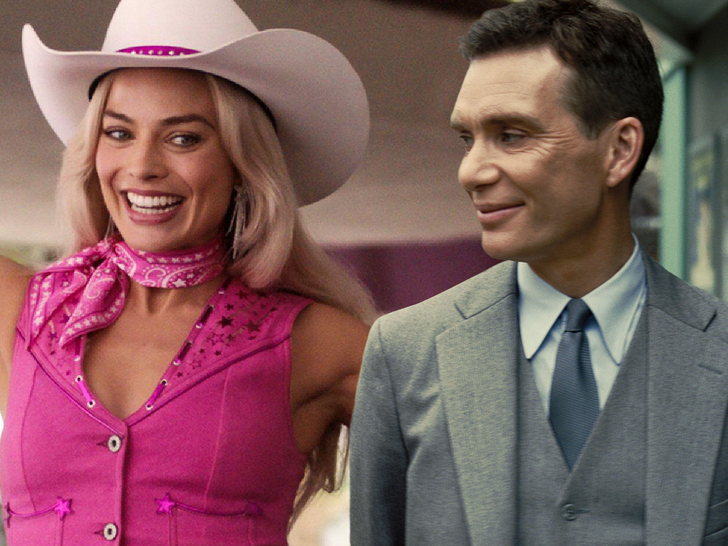 Alamy
"Barbie" and "Oppenheimer" are cleaning up on their first weekend at the box office.
Both films opened Friday across the US and abroad, generating massive ticket sales and revenue with a whopping $511 million in total estimated proceeds, which rarely ever happens in the movie biz.
Hollywood's bouncing back with a vengeance, leaving the pandemic in the rearview! Movie theatres across North America witnessed their largest crowds since "Avengers: Endgame" hit the screens back in April 2019.
As for which flick took first prize ... "Barbie", starring Ryan Gosling and Margot Robbie, snagged the top spot, raking in over $155 million in U.S. box office receipts -- making "Barbie" the biggest opening of the year taking the top spot away from "The Super Mario Bros. Movie" at $146 million.
On the other hand, Director Christopher Nolan's "Oppenheimer" landed in second place, taking in over $80 million domestically and $174 million globally, making it the third-strongest opening this year.
But that's not all – when all the numbers are tallied, it's expected that this weekend will go down as the fourth biggest box office weekend in history, with a staggering industrywide total of over $300 million. The impact of this weekend's box office success is undoubtedly going to be talked about for a long time to come.
If they continue along this track, the sky's the limit for Barbie and Oppenheimer.