Zach Bryan Arrest Video Shows Confrontation with Cops
Zach Bryan
Arrest Video Shows Confrontation with Cops
Zach Bryan made it clear to cops, they were gonna regret arresting him, and he certainly put up a verbal fight ... letting them know he had plenty of friends in high places.
We've obtained the dashcam video from Bryan's arrest Thursday in Oklahoma. You see Bryan pull up next to his security guard's white SUV just after the security guard was stopped for speeding. Bryan jumps out of his truck, and is told to get back inside or he'd be taken to jail.
Bryan, without hesitation, challenges the cop ... and he's put in handcuffs and placed in the front seat of the cop's cruiser.
From there ... Bryan gets more pissed, telling the officer, "F***ing cops are out of hand, truly." In the police report, obtained by TMZ, officers stated Bryan said, "These f***ing cops are out of control" ... so the dashcam is slightly different.
Bryan also makes it a point to tell the officer he knows just about every officer in Oklahoma, even inviting some to a recent show.
At one point, he states someone needs to get officers in check -- as they're just a bunch of middle-aged white guys going around and arresting people.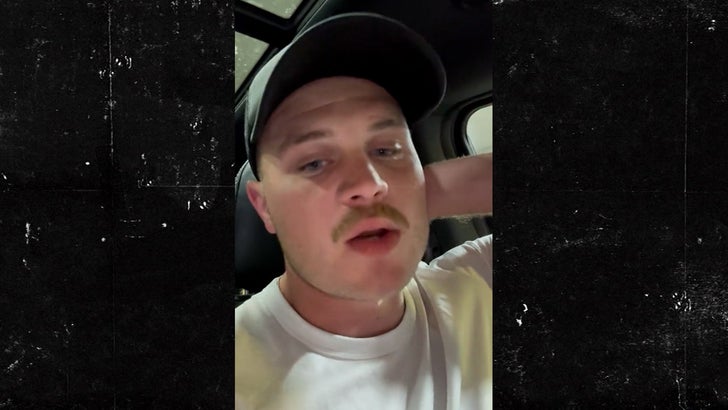 9/8/23
You can also see Zach's conversation with his dad -- who he asks to come and pick up his dog who was also traveling in the truck.
Zach tells his dad he had empty beer cans in the vehicle, but later explains to officers he sits in his driveway drinking and listening to music because the truck has a good sound system ... the officers tell him booze isn't a factor in the arrest, so the empties are no problem.
Eventually, the officer drives Zach off to jail ... and he's much more calm.
For more on Zach's arrest, check out the latest episode of TMZ Live. Now available on all podcast platforms.