Charli D'Amelio Goes Off On Sister Dixie For Joking About Killing Her Dog
Charli D'Amelio
Blows Up At Dixie, Storms Out Over Dog-Killing Joke ...
'WTF Is Wrong With You?!'
Charli D'Amelio was in attack mode after her sister, Dixie, joked about killing her dog, Rebel ... dramatically storming out of a family meeting about Rebel's eating habits.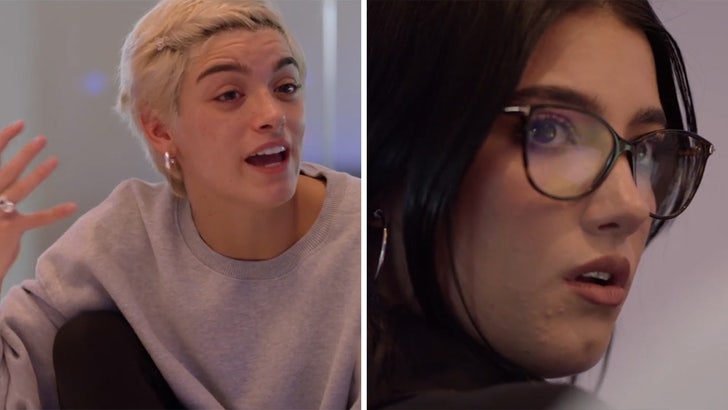 Hulu
The sisters went at it on the latest episode of their Hulu series, "The D'Amelio Show" ... 19-year-old Charli and 22-year-old Dixie were talking with their parents, Marc and Heidi, about moving houses when the focus shifted to Charli's pup.
Dixie calls "Charli's fat dog" a monster, with Heidi agreeing Rebel is pretty big, adding, "She's gonna die" and they need a plan.
That's when Dixie dropped the sarcastic bombshell, quietly saying, "Execute her?" -- which didn't sit well with Charli, at all.
She immediately blew up, telling Dixie, "What the f*** is wrong with you? That's so mean, you can't put that out in the world." Mom agreed.
The younger sister left a lot of tension behind as she walked out of the convo ... and Dixie rolled her eyes, calling her sister "a bitch."
BTW, Marc obviously didn't want to fuel the fire ... telling producers the fam "can't afford them not to be speaking."
Lots of drama in the D'Amelio household, and cupcake-snatching Rebel's caught in the middle of it!
For more influencer news, tune in to the TMZ Verified Podcast. Dropping every Thursday on all podcast platforms.