Britney Spears Says Justin Timberlake Got Her Pregnant, Had Abortion, Memoir Claims
Britney Spears Memoir
Justin Timberlake Got Me Pregnant ...
Both Agreed to Have an Abortion
Britney Spears has what insiders have described as a "bombshell" in her upcoming memoir, and multiple sources tell TMZ ... that bombshell is that Justin Timberlake got her pregnant and after some heart-wrenching discussions they agreed she would get an abortion.
Multiple sources with direct knowledge of the book tell TMZ ... Britney felt Justin was the love of her life when they were together, and around late 2000 she learned she was pregnant.
She says in the book she was raised not to get an abortion ... part of it was religious and part was just what she learned from her family.
In the book, Britney writes, "I loved Justin so much. I always expected us to have a family together one day. This would just be much earlier than I'd anticipated." But, she says Justin felt they weren't ready, because they were too young -- both were around 19 at the time.
According to the book, Britney says she was "conflicted," but after some difficult, emotional discussions, they both agreed getting an abortion was the right decision.
Justin and Britney dated between 1999 and 2002. Two sources tell TMZ it was so serious, Britney wanted to marry Justin, but that obviously did not work out.
The decision to have an abortion haunted Britney for years ... something she spoke about in private.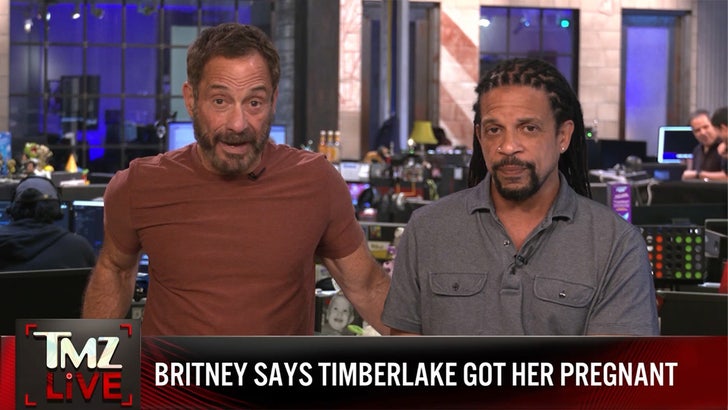 TMZ.com
We reached out to Justin's reps ... so far, no word back.
Britney's memoir -- "The Woman in Me" -- comes out October 24.