Celebs Call For Release of Hostages Taken By Hamas In Letter To President Biden
Hollywood To Hamas
Release All Hostages!!!
Bring Them Home, Biden
Tons of Hollywood stars are banding together to pressure Hamas to release all hostages taken by the terrorist group in Gaza ... and they're asking President Biden to help make it happen.
The open letter is part of a new campaign out of Hollywood, led by Jewish celebs and executives, called #NoHostageLeftBehind.
It's a truly extraordinary number of Hollywood honchos who have signed on, and it's clearly well-intentioned ... but what's clearly lacking is how the letter brings Hamas hostages home ... not that we're expecting celebs to figure that out.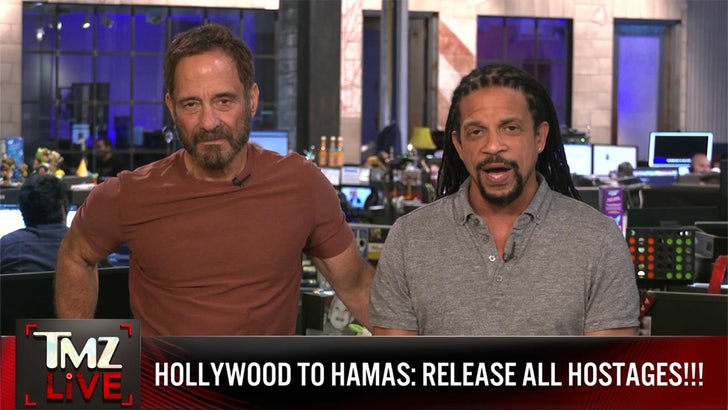 TMZ.com
Seems Hollywood is looking to the White House for a hand here ... the letter also thanks Biden for his leadership in bringing home two American hostages Friday ... though the celebs say their "relief is tempered by our overwhelming concern that 220 innocent people, including 30 children, remain captive by terrorists, threatened with torture and death."
The letter concludes ... "We all want the same thing: Freedom for Israelis and Palestinians to live side by side in peace. Freedom from the brutal violence spread by Hamas. And most urgently, in this moment, freedom for the hostages. We urge everyone to not rest until all hostages are released."