Dave Chappelle Spurs Walk-Outs in Boston After Comments on Israel
Dave Chappelle
Walk-Outs in Boston
Over Israel Comments
Dave Chappelle's comments on Israel-Palestine caused some attendees of a recent comedy show of his to walk out -- and it's because he said Israel is in the wrong in this conflict.
The comedian made the inflammatory remarks Thursday during a show in Boston -- where cell phones were confiscated -- and according to the Wall Street Journal ... he got into the Middle East topic toward the end of his set, where he seemed to mostly side with Palestine.
Per people who were apparently in attendance, DC launched in on this by first saying students who are publicly supporting Palestine shouldn't lose job offers -- which has been a thing lately -- which then led him to fully address the fighting going on overseas.
He reportedly condemned the terrorist attack on Israel that was carried out by Hamas, but then said the response/retaliation to Palestinians in Gaza has been disproportionate -- accusing Israel of committing war crimes with their bombing campaign ... and even claiming the U.S. was responsible for aiding and abetting "the slaughter of innocent civilians."
Amid these remarks, somebody in the audience told him to shut it ... which apparently ticked him off and caused him to lash out -- although what exactly he said isn't clear.
What WSJ says was communicated, generally, though was that Dave was angry about Israel cutting off water and electricity to Gaza ... while continuing to pound them with explosives.
As a result of this, it divided the audience ... some cheered "Free Palestine" and others pushed back with questions about Hamas. Eventually, some people straight up got up and left. Dave, meanwhile, supposedly ended by saying that two wrongs don't make a right.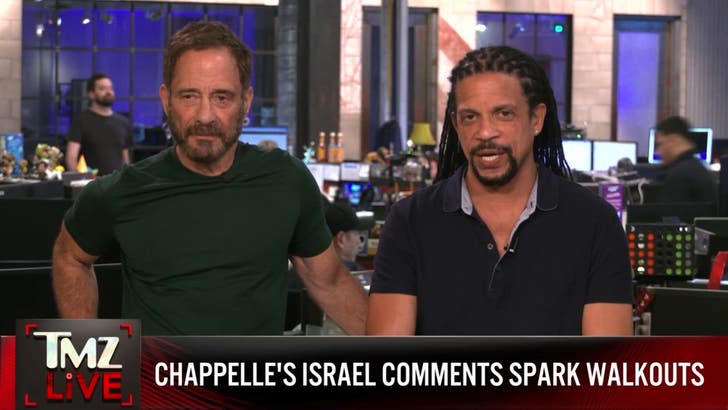 TMZ.com
Worth noting ... Dave's Muslim, which could be playing into this. And of course, this is far from the first time he's landed in controversy. His team's denying he was there ... but he was.