Are Pete and Kate the New Sid and Nancy?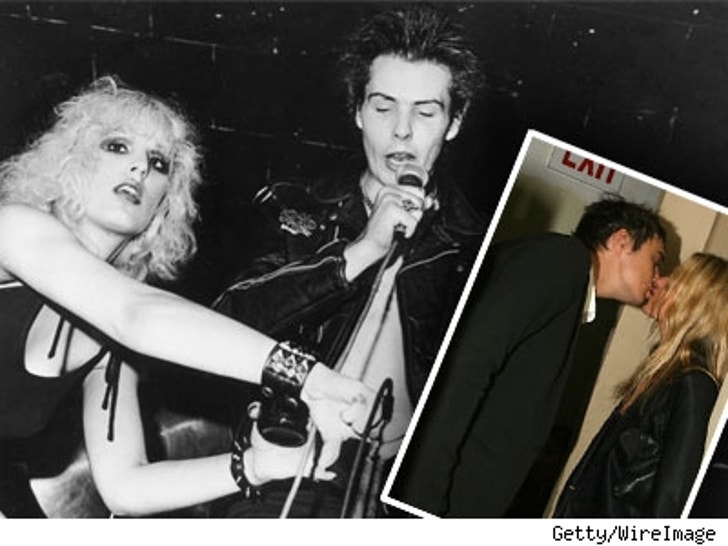 Around this time last year, Pete Doherty seemed to be on a downward spiral lost in reported drug addiction and other self-destructive behavior. He's certainly had his ups and downs since then. After vowing to get clean, it is still unclear if Pete has righted his ship.
The same can be said for Pete's on again, off again, and apparently on again girlfriend Kate Moss. Kate has publicly dealt with drug allegations, reportedly done her own stints in rehab and some are not sure she' s learned the "drugs are bad" lesson just yet. And, apparently, she's not quite over Pete Doherty either.
The two have been popping up together in various places and Kate joined Doherty's Babyshambles band on stage the the night in Dublin. They even may face criminal charges together for violating a no smoking ordinance. Now, while not exactly the stuff of the legendary Sid Vicious and his longtime girlfriend Nancy Spungen, the Moss/Doherty combo does draw some comparisons to that tragic duo with their own penchant for self-destructive behavior. The question is will these two help each other get past their excesses and other problems or lead each other down the drain? Doherty is amazingly talented and Moss has proven herself a valuable brand builder in the fashion world. It would be a shame to see them go anywhere further near the Sid and Nancy direction.
Of course, both have also shown a remarkable ability to bounce back. After being dropped by their label, Babyshambles could have called it quits. Instead they are working on new material and are touring throughout the fall. Moss was dumped by a couple major fashion brands only to now be reportedly making even more money than before her drug scandals. So, it is quite possible these two won't take a bad a turn as Sid and Nancy, but I certainly don't expect them to be the June and Ward Clever of the new millennium either. No doubt these two will continue to make headlines for more than music and modeling.