Evans Quits, Inaba Hooks Up on 'Dancing'
Evans Quits,
Inaba Hooks Up on 'Dancing'
It keeps getting more interesting on "Dancing With The Stars." Yesterday, contestant Sara Evans announced that she quit the hit ABC show and has filed for divorce from her husband. Citing the need "to give her family her full attention at this difficult time," Evans has left the dancing competition even though she hadn't yet been booted off. It's just the latest spicy turn for the show -- contestant Mario Lopez and his partner have been much-rumored to be taking their dance moves off the floor and into the bedroom, and recently-disposed-of Willa Ford and her dancemate Maxim were another buzzed-about couple.
Meanwhile, it seems that "Dancing" judge Carrie Ann Inaba is tango-ing with the enemy – well, if not the enemy exactly, then the competition. People reports that Inaba has been dating dancer Artem Chigvintsey, one of the professionals on Fox's "So You Think You Can Dance," for eight months, though the relationship only became public after the two were spotted getting cozy after the Wednesday night elimination show.
Christina Aguilera may be one of pop music's biggest and most celebrated stars, but when the girl's gotta go, the girl's gotta go. She tells Blender magazine in its November issue (via Rush & Molloy) that while on tour, during a backstage costume change, she went pee-pee in a bucket standing stark naked in front of a roomful of handlers. Still, she's not so embarrassed by it: "I'm very comfortable with my naked body," she says. "There's probably even some video of me peeing." Meanwhile, Xtina adds that she and hubby Jordan Bratman are looking for a place in New York.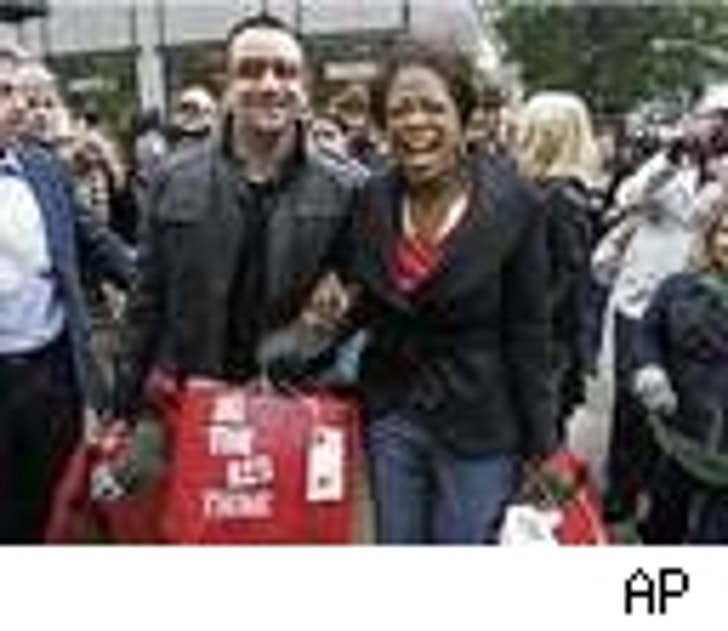 As though they really needed more stuff, Oprah Winfrey and Bono took a walk down Chicago's Magnificent Mile on Thursday for a shopping spree – to help promote a new line of merchandise that will soon – or perhaps already is, as of this morning – ubiquitous. At least it's for a good cause: dozens of (Product) Red items will be going on sale in coming weeks by the Gap, Apple, Motorola, Converse, and Armani, with a portion of the proceeds from the sales going to The Global Fund, an organization that fights AIDS, tuberculosis, and malaria. Apple, for instance, is debuting a bright red iPod nano, whereas the Gap is rolling out a huge clothing line, much of which actually is red.

Alec Baldwin still totally chews the scene, whether he's on an NBC sitcom or trying to get past a barricade at a plane crash emergency or at a Cuban restaurant. As TMZ reported yesterday, Baldwin was spotted yelling at a New York City policeman who was directing traffic away from the Cory Lidle plane crash. Then, as Page Six reports, a few hours later, at the Grand Havana Room, Baldwin reportedly demanded a telephone from the hostess, and loudly. "I asked you a question in English and I would like an answer in English. Do you have a working phone in that room? ... That is outrageous. That is totally unacceptable." Baldwin is starring in NBC's "30 Rock." Baldwin's rep say he was just asking the cop for directions and that he would never insult someone else's English.