Borat Lawsuit -- High Five!!!
Borat Lawsuit
High Five!!!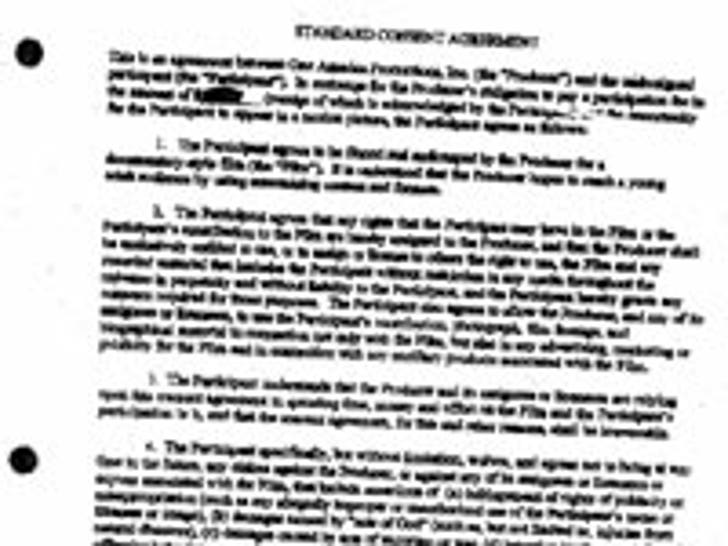 How's this for the beginning of a lawsuit filed today in Los Angeles County Superior Court? -- "Sacha Baron Cohen is a prankster."
Two anonymous plaintiffs are suing 20th Century Fox and One America Productions, claiming members of their college fraternity were interviewed to become part of the smash "Borat: Cultural Learnings of America for Make Benefit Glorious Nation of Kazakhstan" film.
The plaintiffs -- listed as John Doe 1 and John Doe 2 -- were allegedly assured the film would not be shown in the U.S. and their identities would not be revealed.
They were both selected to appear in the movie and, according to the suit, taken "to a drinking establishment 'to loosen up' and provided alcoholic beverages." They claim they signed the movie releases after "heavy drinking."
The suit claims both men were then taken to a motor home where they were filmed, all the while "encouraged to continue drinking."
The movie features a scene in a motor home where Cohen gets drunk with three frat boys who go on a racist rant about how they wished they had slaves and how minorities in the United States "have all the power."
According to the lawsuit, the frat boys only received $200 for the controversial appearance.
The plaintiffs claim they suffered "humiliation, mental anguish, and emotional and physical distress, loss of reputation, goodwill and standing in the community..." because the movie was indeed released in the U.S.
The suit asks for unspecified damages.
Calls to 20th Century Fox were not immediately returned.