Did Travolta Snub Cruise?
Did Travolta
Snub Cruise?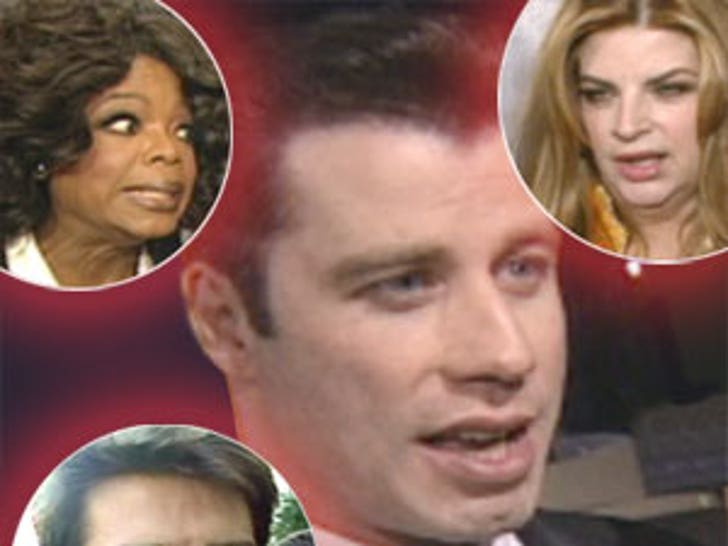 Hollywood is buzzing about a very notable no-show at last weekend's TomKat wedding -- John Travolta -- and there's persistent speculation that Travolta's absence might have to do with the guest-list snubbing of Travolta's close pal, Oprah Winfrey.

Tom Cruise and Katie Holmes' wedding last weekend was wall-to-wall celebrities -- Jennifer Lopez, Will Smith, Victoria Beckham, Brooke Shields and on and on. But Travolta's absence was as prominent as all those attendees combined. Travolta is a longtime friend of Cruise, a fellow super-Scientologist, one of the first stars to see baby Suri during her prolonged seclusion, and was consistently reported to be set to ferry Cruise and friends to the Italian wedding in his John's own private jet.
So what happened? Sources say that the answer might be in the Big O -- as in Oprah. Winfrey is one of Travolta's closest friends -- she threw his 50th birthday party and has called him her "soul mate." Likewise, Kirstie Alley -- another bosom buddy of Oprah's and an avowed and public Scientologist -- also skipped the trip to Italy, even though other, more minor Scientologists, like Leah Remini and Jenna Elfman, made it. And just to prove how Scientology-centered the ceremony was, Cruise's best man was David Miscavige, the head of the Church of Scientology.
All of this makes Travolta's absence all the more mysterious, a circumstance not helped by the response of Travolta's reps to TMZ's inquiries: "We weren't privy to the invite list," was their mystifying reply, though what we really wanted to know was whether their client had gone to Italy or not. John's reps then explained that they could not get in touch with him until after the Thanksgiving holiday.