Sarah Jessica Parker: You're So Vein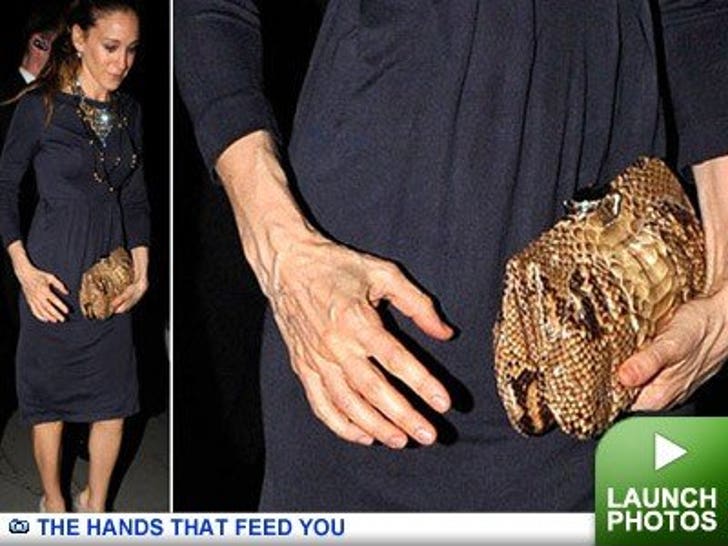 "Sex and the City" isn't the only thing being brought back to life -- so are Sarah Jessica Parker's hands!

The 43-year-old trendsetter stepped out in London on Sunday sporting the latest It accessory of the summer -- a pair of Frankenstein hands!
BTW, sources tell TMZ Sarah Jessica Parker has 50 tix to the May 27 show at Radio City Music Hall. Kim Cattrall, Cynthia Nixon and Kristin Davis each scored 25. So even if it's a giant yawn, 125 people will be laughing their skinny little asses off.
Sorry NBC Anchor Just F**kin' Around
WNBC anchor Sue Simmons thought her mic was off during a live tease last night. It wasn't.

Sue apologized later, saying, "I said a word many people find offensive." Yeah -- just not us.
The Pics Suge Would Kill For!
TMZ has obtained new pictures from the Saturday night smackdown that laid Suge Knight out. A sight to behold -- the most feared guy in L.A. knocked out colder than Vanilla Ice.

Tara Still Flaunting Her Frankentummy
Tara Reid showed off her, er, taut tumtum while beaching with her new beau Alex in Miami Beach this weekend.

Some couples wear matching sweaters, these two have matching guts!
Heidi Klum: Project Bunway
Things got a little sticky for Heidi Klum in Mexico on Thursday.

The 34-year-old sexy supermodel mom heated things up by lounging in the sun and picking her bikini bottom from betwixt her butt cheeks. Auf Wiedersehen wedgie!
Heidi, her parents and her three kids enjoyed a peaceful warm day -- because her douchey baby Seal was nowhere in sight!
The Laura from "General Hospital": 'Memba Her?!
Before there was Bennifer, Brangelina or TomKat, there was "General Hospital's" Luke and Laura (L&L). In the '70s, Genie Francis became famous playing Laura. Guess what she looks like now!

Shauna's Total Disregard for the Universe
The world used to revolve around the sun ... in L.A., it apparently revolves around Shauna Sand.