Nic Cage Sues Biz Manager for 'Financial Ruin'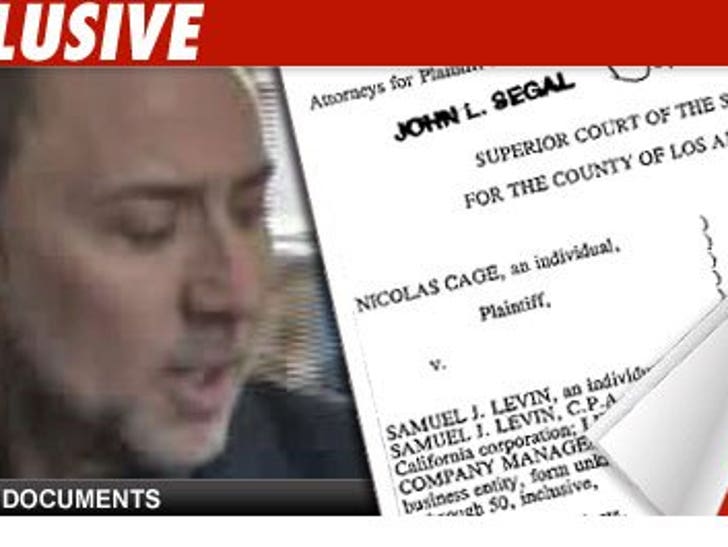 Nicolas Cage, who has made untold millions over a long career, says his business manager has sent him "down a path toward financial ruin" and he wants $20 million minimum to repair the damage.
TMZ has obtained a copy of a lawsuit, filed in L.A. County Superior Court, in which Cage claims Samuel Levin -- his business manager -- was so reckless and incompetent with his money, that he has now been forced to sell off major assets and investments and is faced with gigantic tax liabilities.
In the lawsuit, Cage -- who according to Forbes earned $40 mil between June 2008 and June 2009 -- claims over a period of seven years, "Levin placed Cage in numerous highly speculative and risky real estate investments, resulting in Cage suffering catastrophic losses."
Cage also claims Levin failed to pay taxes when they were due. As TMZ first reported, the IRS has filed liens against the actor for more than $6 million in back taxes.
Cage claims it was only this year, after firing Levin, he learned "the gravity of his financial condition."
In the lawsuit, filed by legal pit bull Marty Singer, Cage claims Levin never advised him of his financial bottom line and is guilty of "over-extending [Cage's] line of credit with banks and financial institutions." The suit claims Levin concealed Cage's "true financial condition prior to investments and assets being acquired by [Cage]." Translation -- Levin never told Cage to put the brakes on buying stuff because he was running out of money.
And, for bad measure, Cage claims he paid Levin millions and was "grossly" overcharged for his services.
Cage is suing for a minimum of $20 million.