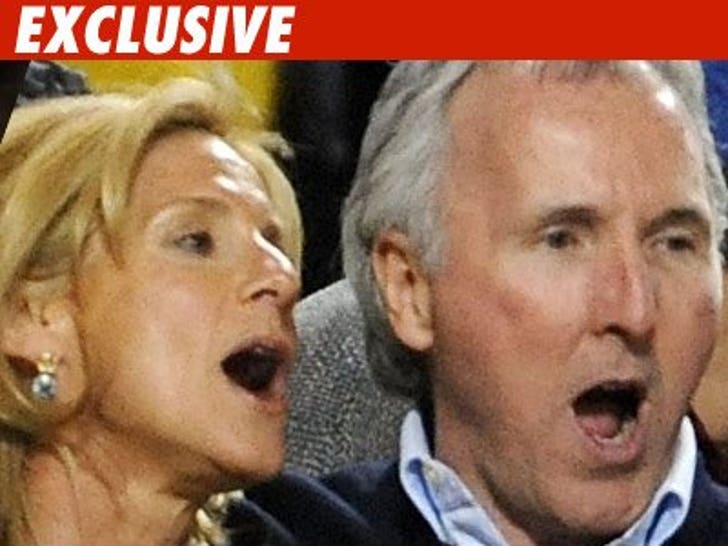 UPDATE: A lawyer for Jamie tells TMZ, "Contrary to the statement by Mr. McCourt's attorney, no one other than Mrs. McCourt and the housekeeper were at the home when Mr. McCourt appeared and police were called.
The police report and the facts of the situation speak for themselves."


Frank McCourt -- owner of the L.A. Dodgers -- scared his estranged wife Jamie so badly she called 911, this according to law enforcement sources.
It happened Sept. 5 2009, at 10:10 in the morning. We're told Jamie was swimming in the pool of her Holmby Hills home when Frank suddenly and unexpectadly appeared. Jamie called 911, explaining that she was frightened because of previous incidents in which Frank had allegedly lost his temper and scared her.
Jamie then called the couple's private security for assistance.
By the time the LAPD responded, private security had already arrived to make sure Jamie was OK.
When cops arrived, the officers interviewed both Jamie and the couple's housekeeper -- who told police she had heard Jamie scream.
Soon after she spoke with cops, we're told Jamie left the house.
But Frank sees things a different way, his lawyer just released the following statement on his behalf:
"The events described by TMZ occurred when the McCourts had already separated.
Mr. McCourt was living alone at the residence in West Los Angeles and his wife was residing in Malibu. That morning, Mr. McCourt left the house and went jogging. When he returned home to the West Los Angeles residence, he found his wife swimming in the pool and her personal "security assistant" Jeff Fuller, was also at the residence.
The news of a 911 call came as a surprise to Mr. McCourt. He had no knowledge of any 911 call at the time; or of any visit by any police officers and law enforcement has had no contact with him. As previously reported by TMZ, Mrs. McCourt and Mr. Fuller have been linked romantically.
Any 911 call makes no sense at all unless there was an ulterior motive which you can be assured will be fully explored."