Cage's Manager: Nic Was Broke As a Joke
Cage's Manager:
Nic Was Broke As a Joke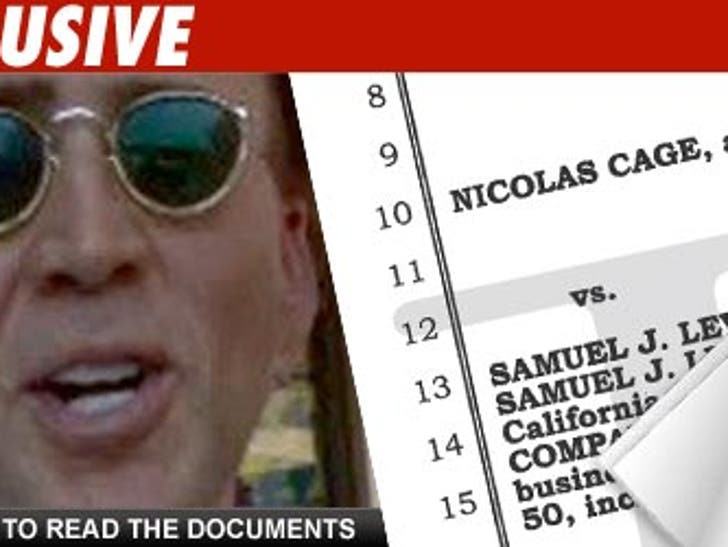 The guy Nic Cage blamed for his financial ruin now claims by the time Nic hired him in 2001, "Coppola [Cage] had already squandered tens of millions of dollars... and owed millions of dollars in... income taxes, with no funds available to pay the tax debt."
In his countersuit obtained by TMZ, Samuel Levin, CPA, says when he was hired he warned Nic he needed to earn $30 mil a year just to maintain his lavish lifestyle.
As for the alleged lavish lifestyle ... Levin cites the year 2007, in which Cage bought 3 homes totaling more than $33 mil, 22 cars (including 9 Rolls Royces), 12 pieces of expensive jewelry and 47 pieces of art.
And Levin says, Cage spent most of his free time "shopping for high-ticket purchases," including 15 homes, a Gulfstream jet, and a flotilla of yachts.
And there's this: Cage "also spent huge sums taking his sizable entourage on costly vacations and threw enormous, Gatsby-scale parties at his residences."
The countersuit goes on: "The pinnacle of [Cage's] spending spree came with his Quixotic acquisitions of Midford Castle in England and Schloss Neidstein Castle in Bavaria." Levin claims he warned Cage the castles were "decrepit" and needed a king's ransom just to make them habitable.
Levin claims Cage owes him $128,872.98 in unpaid business management services.

UPDATE Nic's lawyer, Marty Singer, tells TMZ, "Levin's cross complaint is absurd. He was paid more than $1.3 million this last year-and-a-half. It's ironic he's making his claim for fees when he caused Nic to be in these financial problems while he was paid millions of dollars over the past several years to act as Nic's financial advisor."