NFL Star Accused of Beating Pregnant Girlfriend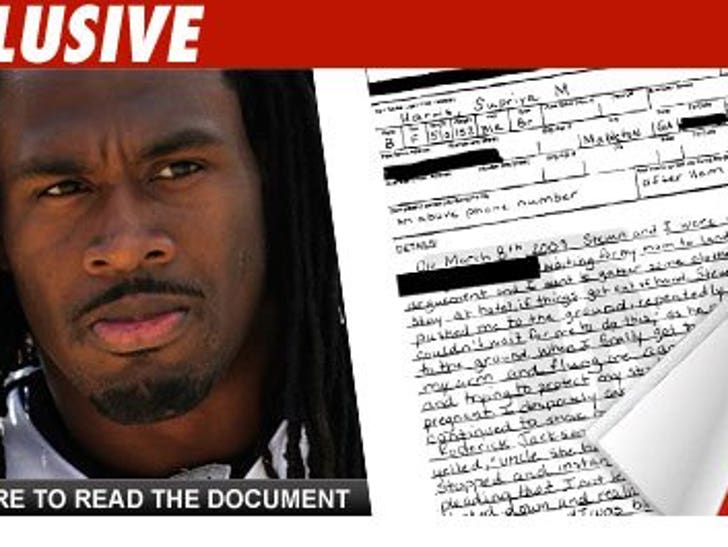 Steven Jackson -- the starting running back for the St. Louis Rams -- has been accused of one of the most vile crimes imaginable ... beating up his girlfriend while she was nine months pregnant with his child.
Jackson's then-girlfriend Supriya Harris claims the NFL star got physical during an "argument" in March 2009 ... this according to a complaint filed with the Las Vegas Police Department.
In her complaint, Harris says, "Steven became enraged and pushed me to the ground, repeatedly."
Harris also claims Jackson, "forcibly grabbed my arm and flung me against the door. I was crying and trying to protect my stomach from the blows, as I was 9 mos pregnant."
In the complaint, Harris claims Jackson "continued to shove me against the door until his nephew ... interceded and yelled, 'uncle, she has a baby, stop.'"
Harris claims she was "bleeding heavily" from wounds she received after she was smashed into a door handle.
Harris says Jackson took her to a nearby hospital -- but instructed her to lie and tell doctors that she was injured from a fall in the shower.
Ten days after the alleged incident, Harris gave birth to their son. According to the complaint, Harris claims she left Steven 4 months later -- after he threatened to beat her up again at a music festival in New Orleans.
Jackson and Harris have been arguing over child support payments -- and recently Harris had filed documents with the court begging the judge to force Steven to pay up. That case is still pending.
We talked to Jackson's rep -- but we're still waiting for comment. Harris declined to comment on the matter.
UPDATE: St. Louis Rams head coach Steve Spagnuolo just released the following statement: "We are aware of the situation involving Steven Jackson. We are in the process of gathering information. We are always concerned with issues involving our players."